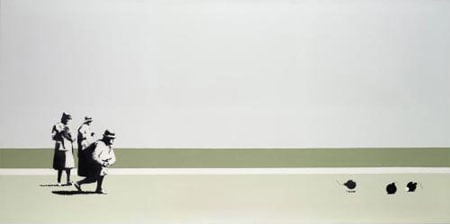 Seven of street artist/prankster Banksy's more conventional works are on the auction block at Sotheby's on February 7th, and it's expected that the work above, "Bombing Middle England", may get a bid of close to $100,000. The acrylic and spray paint work depicts three people lawn bowling with bombs.
Last October, one of Banksy's Warhol 'fakes' of Kate Moss as Marilyn Monroe sold for nearly £50,000 at the auction house, and the craze to obtain an original Banksy print had fans lining up before Christmas outside the annual Santa's Ghetto street art emporium.
For those fans without $100,000 to drop, Banksy is offering up seven of his more well-known images on his website for download. Some see the move as a response to the many forgers trying to profit off his easily replicable work.
Banksy also offers up some instructions on how and when to best print the images: "Prints look best when done on gloss paper using the company printer ink when everyone else is at lunch."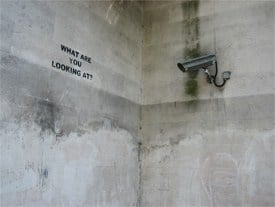 Prints for free [banksy]
You may have missed…
Wooster on Spring: a Street Art Time Capsule [tr]