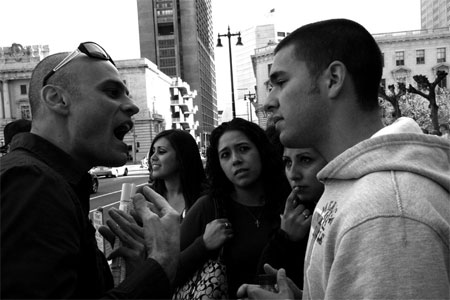 More than 20,000 teenagers with the anti-gay evangelical Christian youth group BattleCry converged on San Francisco this weekend for a two-day confab of "Christian rock, religious speakers and worship." The weekend kicked off with a rally at City Hall which, according to Towleroad correspondent Michael Davis, became a heated confrontation between the group and progressives there to protest.
Davis sent Towleroad these photos from the event. A gay man argues with one of the BattleCry youths (above); a father and son broadcast their opinion on marriage; protestors gather on the mall; and young Christians pray for salvation (below).
Ron Luce, who runs the Texas-based ministry behind the event, told the AP: All the stuff that's being rammed down their throats, it's pillaging and raping this young generation of any virtue. They're saying 'we're tired, we're going to shape our culture in a different way…The Bible teaches us homosexuality's harmful and is a sin, period. There's lots of documentation that homosexuals have shorter life spans, and are more prone to suicide and depression, so it's not very loving of us to let them stay in that situation.
The mayor's office issued this statement on the event: "Their homophobic beliefs are offensive, but we hope they'll become more tolerant after spending the weekend in our famously tolerant city."