L.A. Times sports writer Mike Penner dropped a bombshell in his column today: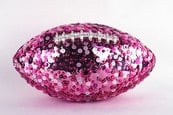 "During my 23 years with The Times' sports department, I have held a wide variety of roles and titles. Tennis writer. Angels beat reporter. Olympics writer. Essayist. Sports media critic. NFL columnist. Recent keeper of the Morning Briefing flame. Today I leave for a few weeks' vacation, and when I return, I will come back in yet another incarnation…As Christine…I am a transsexual sportswriter. It has taken more than 40 years, a million tears and hundreds of hours of soul-wrenching therapy for me to work up the courage to type those words. I realize many readers and colleagues and friends will be shocked to read them."
Penner says writing the column is something that took him "more years than I care to count". We applaud his courage and wish him well on the journey.
Old Mike, new Christine [la times]