It was a proposal floated in January, two months after Wisconsin residents passed an amendment to the state's constitution banning gay marriage. Because Madison was one of the few cities in which citizens voted 2-1 against the ban, elected officials hoped to voice their dissent by making it clear when sworn in that they didn't agree with the discriminatory amendment.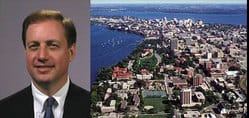 Yesterday, Mayor Dave Cieslewicz and 10 of the 20 city council members being sworn in did just that, signing a statement following their swearing in that they took the oath of office under protest, saying the amendment "besmirches our constitution."
Added Cieslewicz: "I cannot in good conscience take office without noting my strong opposition to the recent amendment that so blatantly discriminates against my fellow Wisconsinites who are gay or lesbian."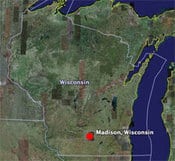 According to the LaCrosse Tribune, "Cieslewicz said he respected the statewide vote that added two sentences to the constitution declaring that marriage is between one man and one woman and that the state cannot recognize other relationships. But he said the same process would one day be used to reverse the amendment and 'give all of us exactly the same right to marry, raise a family, and be full members of our communities.' The mayor is straight and married. Seventy-six percent of the liberal voters in the state's second largest city rejected the amendment, but it easily passed across the state nonetheless."
The oath of office protest is being seen as the first of its kind.
You may have missed…
Madison Considers Oath of Office Option to Support Gay Rights [tr]