Voting down party lines, the New Hampshire state senate today voted 14-10 to approve same-sex civil unions. As the House has already passed the bill, it now goes to governor John Lynch, who has said he will sign it.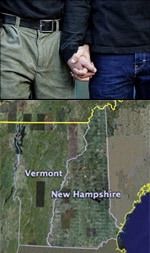 And what a difference a single election can make. The Concord Monitor: "The bill's success is an about-face from two years ago, when a study panel recommended giving no meaningful consideration to extending legal recognition to gay couples. That panel, staffed mostly by supporters of a ban on gay marriage, concluded that homosexuality is a choice and endorsed a constitutional amendment to limit marriage to unions between a man and a woman. Democrats won control of the Legislature last fall for the first time in more than a century."
Presidential hopeful John Edwards was among the first of the candidates to release a statement lauding the vote: "Today, Gov. Lynch and the state of New Hampshire showed us that the idea of America — fairness, justice and equal opportunity — can become a reality when we have the courage to stand up for what is right. New Hampshire's decision to recognize civil unions and grant gay and lesbian couples the same rights granted to heterosexual married couples is an important step in the fight for justice. This is an issue of fundamental fairness, and by passing this law, New Hampshire's leaders chose fairness over discrimination."
New Jersey, Connecticut, and Vermont will now recognize civil unions. Washington, Maine, California, New York and Washington D.C. have domestic partnership laws.
You may have missed…
New Hampshire Gov Says He'll Approve Same-Sex Civil Unions [tr]
New Hampshire House Passes Civil Union Bill [tr]