Elaborating on statements he made in late April when New Hampshire voted to legalize civil unions for same-sex couples, Gay Episcopal Bishop Gene Robinson said on Thursday he plans to take advantage of the state's new laws and join legally with his partner of 18 years, Mark Andrews.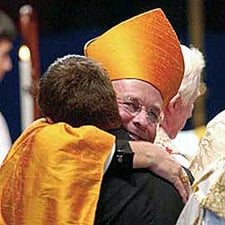 Robinson told Reuters that he plans to have two ceremonies, one religious and one civil. He said that separating "the civil rights from the religious rites" may inspire greater acceptance from those who would hesitate in offering rights to same-sex couples
Said Robindon: "Religious people and religious organizations who are not yet ready to offer the churches or the synagogues blessings on such unions, might be supportive of full civil rights for this country's gay and lesbian citizens."
However, Robinson is of the opinion that civil unions are not enough and urged his state to follow the lead of Massachusetts: "It won't be full equality until it is equal."
New Hampshire's civil union law, which Governor John Lynch is set to sign in the next week, would go into effect January 1st, 2008.