Following the Alice B. Toklas Lesbian Gay Bisexual and Transgender Democratic Club breakfast event which I posted about on Friday, Elizabeth Edwards made it clear that her position on gay marriage differs from that of her husband.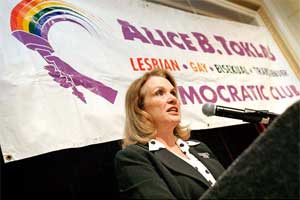 Said Edwards: "I don't know why somebody else's marriage has anything to do with me. I'm completely comfortable with gay marriage…If he's pleasant to me on the street, if his children don't throw things in my yard, then I'm happy. It seems to me we're making issues of things that honestly … don't matter."
Edwards made a keynote address to 300 at the breakfast, marking the first time a presidential candidate or spouse has ever appeared at a San Francisco Gay Pride event. Mayor Gavin Newsom, District Attorney Kamala Harris and City Attorney Dennis Herrera were also in attendance.
During the stump speech, she reiterated John Edwards' position on the issue: "John believes that couples in committed long-term relationships should enjoy the same rights, benefits and responsibilities regardless of whether they are straight couples or same-sex couples. He supports civil unions."
Edwards made it clear afterward that her views are further evolved than her husband's: "John has been pretty clear about it, that he is very conflicted. That's up against his being raised in the 1950s in a rural southern town. I think honestly he's on a road that a lot of people in this country are on. … They're struggling with this. Most of the gay and lesbian people I know … have seen their friends and family walking down that same road. It's frustrating, I know, but it's a long distance from where we are now to the pews of a Southern Baptist church. So, John's been as honest as he can about that."
Elizabeth Edwards supports same-sex marriage [sf chronicle]
Mrs. Edwards Comfortable With Gay Unions [nyt]
(image: sf chronicle)
You may have missed…
Elizabeth Edwards to Appear at San Francisco Gay Pride Event [tr]
John Edwards on Men's Vogue [tr]