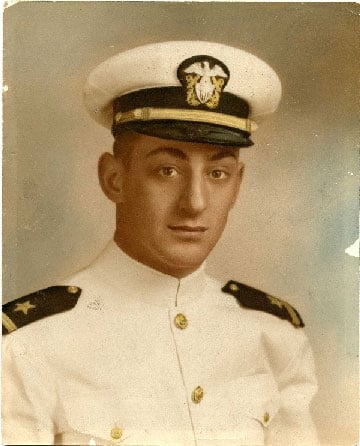 A new exhibit opening on Friday at the GLBT Historical Society in San Francisco aims to document the many gays and lesbians who have served since World War II in our nation's military.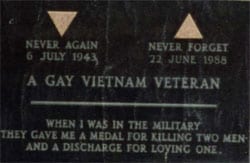 The exhibit features dozens of artifacts, according to the San Jose Mercury News, including "the footlocker Leonard Matlovich took to Vietnam, before he fought the Air Force to serve openly as a gay soldier in the 1970s, temporarily installing him as perhaps the most prominent gay person in America" and "one of the distinctive blue certificates issued to soldiers who were discharged for being gay during World War II – an indelible mark that prevented many from ever returning home. Many stayed in coastal cities, seeding gay communities in San Francisco, New York and Los Angeles." Matlovich's tomb inscription is pictured here.
And who is the Navy stud above? Find out after the jump…
It's slain San Francisco Supervisor and gay rights icon Harvey Milk, who served in the Navy on the U.S.S. Chanticleer during the Korean War.
Said curator Steve Estes: "Our target audience is not just the gay community. If we forget the long history of gay military service, then we are less likely to view gays and lesbians as full citizens, deserving of civil rights and equal protection of the law."
More from the San Francisco Chronicle….
Out Ranks: GLBT Military Service from WWII to the Iraq War [official site]
You may have missed…
Pentagon Sought "Gay Bomb" Says Watchdog Group [tr]
Gay Iraq War Vet: Steady Gay Couples Common at Camp Lejeune [tr]
GOP Candidates on Gays: Discrimination Trumps National Security [tr]
Singer and Van Sant Vie to be First with Harvey Milk Film [tr]