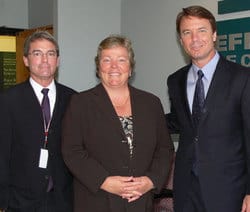 The folks at the L.A. Gay & Lesbian Center sent us this shot of Curt Shepard, L.A. Gay & Lesbian Center Director of Government Relations, Lorri L. Jean, L.A. Gay & Lesbian Center Chief Executive Officer, and Democratic candidate John Edwards.
Edwards made a stop at the center today on his swing through Southern California following his appearance yesterday on The Tonight Show. It was an informal and educational visit, according to Communications Manager Bob Adams, so Edwards could learn more about the LGBT community's needs and how the Center is working to advance them.
NOTE — I know we've been covering Edwards quite a bit — it's simply that he's been the one making the news of late. We've made no endorsements of any candidate.
You may have missed…
John Edwards on Wife's Gay Marriage Position: "She Actually Says What She Thinks" [tr]
Elizabeth Edwards Declares Support for Gay Marriage [tr]
John Edwards on Men's Vogue [tr]