SCOTUS strikes down voluntary school integration. From Stevens dissent: "The Court has changed significantly since it decided School Comm. of Boston in 1968 [a major busing case]. It was then more faithful to Brown and more respectful of our precedent than it is today. It is my firm conviction that no Member of the Court that I joined in 1975 would have agreed with today's decision."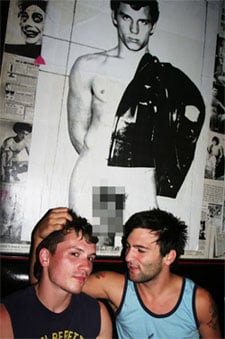 Its little pony: Seattle gets a new gay bar.

Breakthrough: Scientists discover way to remove the HIV virus from infected cells.

Who knew? The Wikipedia page on WWE wrestler Chris Benoit's death was updated with information about his wife's death hours before authorities discovered the bodies of the couple and their 7-year-old son.

The Economist looks at "out and proud" parents: "The kind of gay activists who think you can't be authentically gay unless you are permanently in opposition to the mainstream find the prospect of gay assimilation appalling. So does the religious right. A black preacher named Wellington Boone, for example, has circulated a pamphlet entitled 'The Rape of the Civil Rights Movement: How Sodomites Are Using Civil Rights Rhetoric to Advance Their Preference for Sexual Perversion'. But he is howling at the incoming tide."

Two gays in this year's Big Brother house?

Advocate: PlanetOut faces June 30th financing deadline. "It was PlanetOut's last earnings call in May that set off alarms in the financial community, even as a report was released weeks later that showed ad spending in gay media reached record highs in 2006. In addition to the $6.9 million loss, the San Francisco-based company—owner of Planetout.com, Gay.com, The Advocate , Out , and RSVP Vacations, among others—projected a $7-9 million loss for the entire year. That sent its stock price plummeting to an all-time low on May 22 of 86 cents a share, a drop of 89% from its 52-week high of $7.95. PlanetOut also has two outstanding loans: one for $7 million due over the next six months; and a second loan of $10 million, most of which is due over the next four years. The company has been hamstrung more than anything by the poor performance of its travel and cruise subsidiary, RSVP Vacations, in particular lackluster bookings on a trans-Atlantic cruise aboard the Queen Mary that culminated earlier this month. The low occupancy, plus related fines, resulted in a $700,000 hit on first-quarter earnings."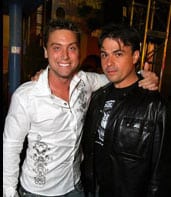 Lance Bass knows a thing or two about "transforming".

Tyrese announces ban on men at upcoming "Shirts Off" tour: "We're putting a ban on all dudes from coming to the show."

Queen Latifah takes a spin on her hog.

Brighton, England gay basher avoids prison sentence: "On Friday October 27 last year Whittam drank six pints of strong Stella Artois, had four shots of Sambuca and took half a gramme of cocaine, the court heard. He approached lesbian couple Sarah Lavis and Rachel Moorey in London Road in Brighton at 11pm. They were looking through some records left outside a charity shop. He told Miss Moorey: 'If you don't leave them alone I'm going to batter you.' He kicked Miss Lavis in the back, and called the couple obscenities including 'dirty lesbians'.

Jesse Metcalfe wants to be a singer.