Man arrested for 2005 gay rape in Santa Fe, New Mexico: "The victim told police he was drinking at the Swig nightclub in May 2005 and next remembers waking up in a car in a wooded area. He went to police and was then treated for injuries at a hospital where physical evidence including a DNA sample was collected. Nevada law forced Gonzales to give a DNA sample after he was arrested for attempted robbery in October which put him in the national database."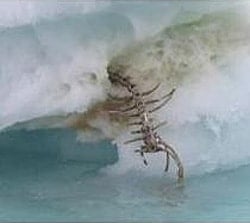 Melting iceberg off Newfoundland reveals mystery skeleton.

Not so fast: Paris Hilton called back before judge.

Analyst predicts Apple will sell $45 million iPhones by 2009: "While this may seem like a bold prediction, we believe a number in this area is not as far of a reach as some may think."

STUDY: More women experimenting with bisexuality. "The survey, released Thursday by the CDC's National Center for Health Statistics, found that 11.5 percent of women, ages 18 to 44, said they've had at least one sexual experience with another women in their lifetimes, compared with about 4 percent of women, ages 18 to 59, who said the same in a comparable survey a decade earlier."

Kentucky's creationist museum in sex scandal: "The man who plays Adam in a video aired at a Bible-based creationist museum has led a different life outside the Garden of Eden, flaunting his sexual exploits online and modeling for a clothing line that promotes free love. After learning about his activities Thursday, the Creation Museum in Kentucky pulled the 40-second video in which he appears."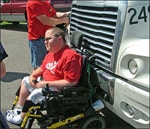 Man in wheelchair gets hooked to grill of semi-truck, gets ride of his life.

Ricky Martin set for ride down Fifth Avenue in NYC as king of the Puerto Rican Day parade. Martin: "The opportunity to share with many Puerto Ricans, remembering our island, and waving a sea of Puerto Rican flags will be an incredible experience. There are Puerto Ricans in politics, in the Army, in art and business that have made a great contribution to the United States," he said. "We are a generous people, and we are strong in the face of adversity. We are a glad, enthusiastic town with a great sense of unity."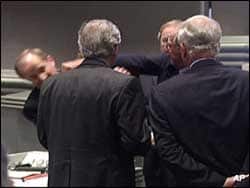 Partisan fistfight in Alabama Senate after Democrat calls Republican a "son of a bitch".

Marc Jacobs and Jason Preston: off again.

New documentary ShowBusiness: The Road to Broadway follows Avenue Q, Wicked, Caroline, or Change, and Taboo from rehearsals through opening night: "We see Kushner and composer Jeanine Tesori hammer out lyrics and music for 'Caroline,' while 'Avenue Q' creators Jeff Marx and Bobby Lopez — young, enthusiastic, seemingly doomed — haul their puppet musical from a 1999 workshop video to the Great White Way. 'Taboo,' a costume extravaganza about the life of nightclub creature Leigh Bowery , attracts tabloid gawking for Boy George's outre make up and O'Donnell's PR pugilism (she's the real star of the show, and that's a problem)."

Jackie Chan gay mobster comedy to get Hollywood makeover. Director Tennenbaum: " "I love [the] movie for so many reasons, including the fact that it is a fresh new idea [flamboyant mobster running a tough heterosexual gang], and has universal themes of humanity, tolerance, and a great sense of humor."