Researchers reported that "optimal patients" responding to a cockatail of at least three drugs had their immune cells known as CD4 T-cells restored to normal levels, Reuters reports: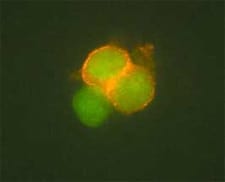 "The study involved 1,835 HIV-infected people drawn from a larger study involving more than 14,000 patients from across Europe, Israel and Argentina. 'I think it's very encouraging that if people can respond to treatment well enough and can suppress the virus for long enough, we have sufficient evidence to say their CD4 counts can return to normal,' Dr. Amanda Mocroft of Royal Free and University College Medical School in London, one of the researchers, said in a telephone interview. 'Our previous understanding was that there was a plateau in CD4 counts so that CD4 counts would stop increasing after a sufficiently long time taking combination therapy,' she added."
Mocroft called the findings "a best case scenario," noting that not all HIV patients respond well to the drugs and also pointing out that those in poverty-stricken areas do not even have access.
Dr. Anthony Fauci, director of the U.S. National Institute of Allergy and Infectious Diseases, "credited Mocroft's team for documenting this phenomenon in a systematic way."