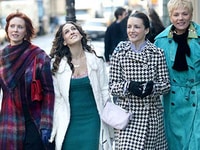 Variety is reporting that the long-rumored film adaptation of "Sex and the City" may very well happen this time, with New Line Cinema close to a deal to finance and distribute a feature version of the famed HBO comedy.
The show's key stars, Sarah Jessica Parker, Kim Cattrall, Kristen Davis and Cynthia Nixon, have all agreed to appear in the film, which according to plans will go into production this fall. Michael Patrick King will direct from his own script.
From the minute the show about four gay men single women and their friends living in Manhattan went off the air in 2004, rumors of a "Sex and the City" feature have been virtually nonstop. For a long time, the main holdout was Cattrall, though Variety suggests that her eventual contract for the feature included script input and a contract for a future series deal at HBO. (How Samantha of her!)
Love me some "Sex and the City" but I can't help but think this ship has already long sailed. My brother's suggested working title for the film? "New Hag City." Ouch.