The Vermont legislature has created a commission to hold public hearings intended to see whether or not Vermont residents are ready to move beyond their civil union law and make gay marriage legal in the state.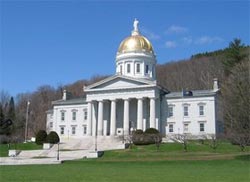 The AP reports: "The 10-member commission will be led by Tom Little, a former state representative who served as chairman of the House Judiciary Committee in 2000, the year the Legislature passed a law that granted same-sex couples the rights and responsibilities of marriage through civil unions. The volunteer commission will hold public hearings and is scheduled to complete its study by the end of April and report to the Legislature."
As expected, Democrats and Republicans have expressed opposing views about the possibility, which wouldn't be debated until 2009.
Republican Governor Jim Douglas says the state shouldn't "reopen the wounds" inflicted during the state's civil union debate, while House Speaker Gaye Symington says that, as far as gay marriage goes, "the question has been when, not so much as whether."