Citing numbers from Nielsen BookScan, the Washington Blade's Katherine Volin looks at the disappointing sales of gay "celebrity" books and what's behind the numbers.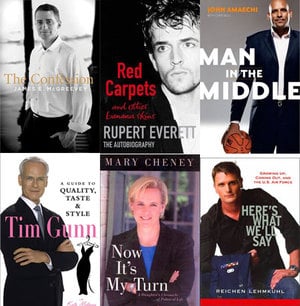 Says Charles Flowers, executive director of Lambda Literary Foundation: "The publishers are looking for a way for someone to sell the book and that's part of the attraction of a celeb book, they've got this platform. I'm not sure people make the leap to, 'Do I want to read a whole book about this person, or by this person?' So I think it's something to be careful about in acquiring a celebrity book. If they're over-exposed, people may not buy a book about them or by them. They already have their opinion made or think they know the person."
I was a bit surprised by the low numbers, though I'm not sure why. It seems all the promotion in the world can't do as much for book sales as a single appearance on Oprah.
A few of the notable books and their sales numbers:
38,000 — "The Confession" by James McGreevey
19,000 — "Silent Partner" by Dina Matos McGreevey
15,000 — "A Guide to Quality, Taste and Style" by Tim Gunn and Kate Moloney
14,000 — "Red Carpets and Other Banana Skins" by Rupert Everett
9,000 — "Man in the Middle" by John Amaechi
9,000 — "Now It's My Turn" by Mary Cheney
8,000 — "There's Nothing in this Book That I Meant to Say" by Paula Poundstone
6,000 — "Tab Hunter Confidential" by Tab Hunter and Eddie Muller
6,000 — "Here's What We'll Say" by Reichen Lehmkuhl
3,000 — "Alone in the Trenches" by Esera Tuaolo and John Rosengren
3,000 — "Include Me Out" by Farley Granger and Robert Calhoun
1,000 — "I Had to Say Something" by Mike Jones with Same Gallegos
1,000 — "La Dolce Musto" by Michael Musto
Gay books a bust [washington blade]