Jim David on The Gay Squirm Factor: "It's enough to make you want to move to Scandinavia, where nobody cares about the gays. If it just wasn't so freaking cold."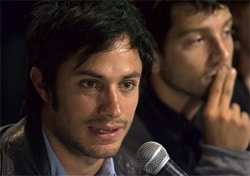 Gael Garcia Bernal and Diego Luna host human rights benefit in Mexico City: "The $300-a-plate meal in the capital will benefit Mexico's Commission for the Defense and Promotion of Human Rights as well as Witness, an organization founded by singer Peter Gabriel that promotes the use of video and film to document human rights abuses."

Former Andy Warhol sidekick Bob Colacello to W magazine: "I'm presumably gay. I believe in going out, not coming out. It takes more courage to be openly Republican than to be openly gay in New York today. I'm a bit of a contrarian."

Putting it all online? Recent developments in "cloud storage" solutions from Google, Microsoft, and Apple.

Tropical Depression 4 forms in Atlantic. Will become "Dean" if named…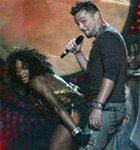 Ricky Martin shows off his skills.

Gay Pride march in Estonia takes place peacefully: "An estimated 300 people gathered in the historic part of the city to celebrate their sexuality, protected by private security officers and an increased police presence. Despite fears of a repeat of last year's violence, when Estonian skinheads injured several marchers by hurling missiles, the event passed off without any significant incident. About halfway down the route, anti-gay demonstrators formed an alternative procession. About a dozen mostly Russian-speaking men, women and children chanted 'no pride' at the marchers."

Ted Haggard escort Mike Jones in new play about soldiers who "go AWOL after being exposed to friendly-fire nerve gas in an all-base orgy."

British military puts gag order on soldiers' blogs: "Members of the Armed Forces and MOD Civil Servants must seek prior permission from [MoD media authorities] if they wish to communicate about defence via books, articles or academic papers; self-publish via a blog, podcast or other shared text, audio or video; take part in external questionnaires, polls, surveys or research projects, speak at conferences, private engagements or other events where the public or media may be present; or contribute to any online community or share information such as a bulletin board, wiki, online social network, or multi-player game…"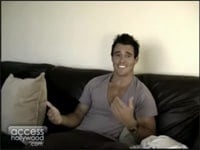 Britney Spears' hot tub hook-up talks to Access Hollywood.

Inside the Hillary Clinton fundraiser at The Abbey in West Hollywood: "…we hear people starting cheering loudly in the VIP room and camera flashes seep through the curtain separating us common folk. She's coming! The crowd begins to chant "Hillary! Hillary!" and it really starts to feel like a rock concert. Then at about 9:00 we see it, her bright red jacket slips through the maroon curtain and the crowd is in a frenzy! 'We Love You Hillary!' and 'You're Fabulous!' seem to be the shouts of choice."

Artist constructs Stephen Colbert portrait out of 768 mini Rubik's Cubes.