The International Gay and Lesbian Human Rights Commission (IGLHRC) has taken a look at the transcripts of Iranian President Mahmoud Ahmadinejad's comments at Columbia University published on his official website.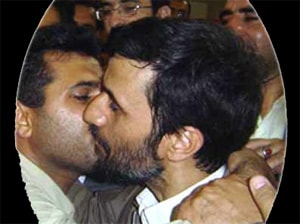 What they found is that his remarks about gays ("In Iran, we don't have homosexuals like in your country. We don't have that in our country. In Iran, we do not have this phenomenon. I do not know who has told you that we have it.") do not appear in the Persian transcripts, which is what the Iranian news agencies base their reports on.
Writes the IGLHRC: "The English version of the President's official website (www.president.ir) provides a full and complete transcript of his speech and the Question & Answer segment where he claimed that homosexuality does not exist in Iran. However, the Persian-language transcript has excised both the question about treatment of lesbians and gay men in Iran and President Ahmadinejad's soon to be legendary response. The President's website purportedly provides the authoritative transcripts of his speeches and is relied upon by the news media in Iran. To date, not a single Persian-language media outlet in Iran – including Iran's official news agency, IRNA, and the semi-independent news agencies, ISNA, Mehrrnews and Farsnews, and the Wednesday morning newspapers – has reported on the President's comments."
Homosexuality does not exist in Ahmadinejad's Iran. God forbid there be any discussion of it either.
Recently
Ahmadinejad: "In Iran, we don't have homosexuals" [tr]
CBC Takes a Look at Iran's Underground Gay Community [tr]