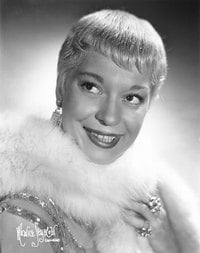 A "diamond dress" worn by Carol Channing in the stage production of Gentlemen Prefer Blondes (see photo) was stolen from the 86-year-old actress as she checked in to the Hollywood Renaissance Hotel yesterday afternoon, TMZ reports:
"The valuable garment, which originally had long sleeves, was scheduled to be photographed and then sent to the Smithsonian to be exhibited. Luckily, her 1964 Tony award for 'Hello Dolly,' which she is also donating to the museum, was in another bag. She's currently rehearsing for a performance this weekend at the Hollywood Bowl. When asked how Carol was doing, he said, 'Carol refuses to focus on the negative. It affects her work.'"
Police are seeking a "person of interest" who was captured on one of the hotel's security cameras.
No doubt Carol wants the dress with her best friends all over it returned quickly.
UPDATE: Carol speaks (and sings)!
You may have missed…
Publicist: Carol Channing Loves Her Gay Fans and Friends [tr]
Carol Channing: Gays May Not Be a Girl's Best Friend [tr]