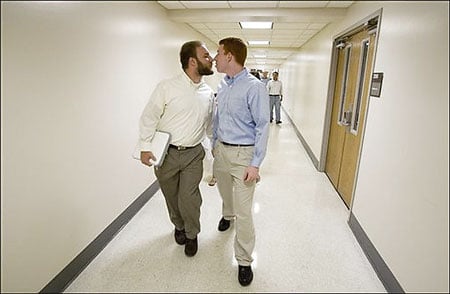 Although he believes a constitutional ban on gay marriage is unnecessary, Democratic Iowa Governor Chet Culver still says he doesn't believe that same-sex couples should have the right to marry. Rather than come down on District Judge Robert Hanson's ruling however, Culver says he'll wait to hear from a higher court:
"I respect the important role that the judicial branch plays in this issue and in many issues. I have said personally that I believe marriage is between a man and a woman, and I've been consistent on that. At the same time, I think it's important we let the judicial process work itself out here."
Culver says that Iowans should wait and see what the State Supreme Court has to say about the issue. Hanson issued the ruling striking down the state's gay marriage ban on Friday and then stayed his ruling shortly thereafter. But not before college students Sean Fritz and Tim McQuillan were issued the state's only same-sex marriage license.
The Des Moines Register reports that "a final ruling in the case could take six months to two years or more."
Culver backs law banning gay marriage [des moines register]