A branch of The United Church of Christ in Adrian, Michigan was recently solicited by an insurance company, asking if they wanted an insurance quote. The church replied "yes" but the insurance company, Brotherhood Mutual, then refused to give it to them after learning about their gay-friendly policies.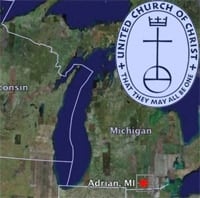 The UCC reports:
"Brotherhood Mutual Insurance Company, based in Fort Wayne, Ind., told West Adrian United Church of Christ in Adrian, Mich., that its denomination's gay-affirming stances made it a 'higher risk' for property and liability insurance. 'Our company's decision to not submit a quote to your organization arose out of information that was supplied in a supplemental application, indicating that your organization 'publicly endorses or practices the marriage of same-sex couples' and 'publicly endorses or practices the ordination of the homosexual clergy," wrote Marci J. Fretz, a regional underwriter for Brotherhood Mutual, in a July 30 letter to the church. Ironically, the church was fully insured by another company, and happily so, but was sought out by a local agent of Brotherhood Mutual who asked to provide the church a quote and then, subsequently, refused to do so."
You may remember, United Church of Christ produced the much-publicized "Ejector Seat" and "Bouncer" ads promoting their openness to accepting people of all races and sexual orientations to their denomination.
Here's a copy of Brotherhood Mutual's letter (PDF).