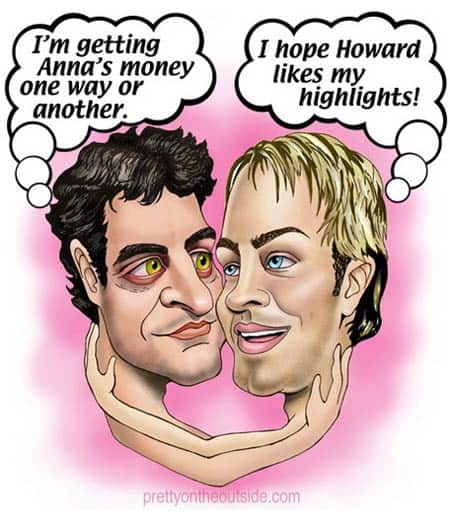 (image courtesy pretty on the outside)
It's hard to believe the Anna Nicole Smith saga could get any slimier but it has.
Threats are flying after the New York Daily News reported that a tell-all book on Anna Nicole Smith would allege that lawyer Howard K. Stern and Larry Birkhead were sexually involved and cut "a secret deal after Anna Nicole was buried in March, with Birkhead getting custody of Dannielynn in return for Stern being named executor of the star's estate."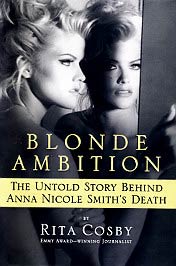 Birkhead and Stern have both denied the accusations and are threatening to sue Rita Cosby, the author of Blonde Ambition: The Untold Story Behind Anna Nicole Smith's Death
, should the book contain the allegations when it hits stands on Wednesday.
Cosby's claims are reportedly based on interviews with Jackie Hatten, who reports seeing Stern and Birkhead "intermingled" though Birkhead denies ever meeting her. Hatten's brother Mark is in prison for stalking Smith.
According to the Daily News, "The former stripper knew both Birkhead and Stern were gay, the book alleges. But Smith, who was obsessed with Marilyn Monroe, chose Birkhead as her lover because she wanted a blond, blue-eyed baby, according to Cosby. The tell-all claims Anna Nicole would spread out on her bed and watch a video allegedly showing Birkhead and Stern having oral sex 'over and over' while Stern worked on his computer in their Bahamas home. The existence of the video was confirmed by a source yesterday."
Birkhead told the Daily News: "None of it is true. I'm gonna sue Rita Cosby for it. If she printed that then she is really getting sued. My attorneys are going after her and that is absolutely false. She got fired and nobody wanted her. The last story she did was on Anna and now she is doing this book because no one will hire her. And I am sure Howard and the estate and everyone else involved is going to sue her too. This is just nonsense….Jackie Hatten has never met me and she hasn't even seen Anna since 2001. She isn't a credible source. Hatten tried to come to the Bahamas to see Anna last year and Anna wouldn't let her. And Jackie's brother went to jail for stalking Anna. This book is coming from the losers club because they all have axes to grind."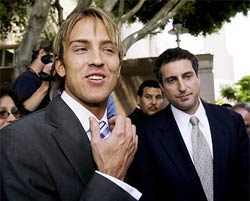 The book allegedly paints Birkhead and Stern as heartless co-conspirators: "As Anna Nicole's life slowly ebbed away, Stern allegedly abandoned her to keep an appointment with a boat broker. The book describes him as cold and nonchalant when told of Anna Nicole's death – a far cry from the picture of a doting lover he painted in interviews…Birkhead comes across as no angel either. The book claims Birkhead gave Smith cocktails of drugs and watched as Stern allegedly gave medication to Anna Nicole while she was attached to an IV drip in the hospital during her pregnancy."
TMZ reports that the Today show has cancelled an interview with Cosby after receiving a phone call from Stern's lawyer threatening to sue the program should Cosby repeat any of her defamatory claims on air.
Anna Nicole Smith book claims Birkhead & Stern were lovers; cut deal on baby, estate [nydn]
Larry Birkhead fuming over lies, gay sex talk in Anna Nicole Smith book [nydn]
"Today" Says Goodbye to Rita [tmz]