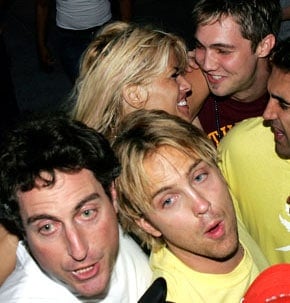 Larry Birkhead continues to respond to allegations by Rita Cosby that he and lawyer Howard K. Stern were sexually involved and conspired to share Anna Nicole Smith's estate, telling Us magazine that the only reason he and Stern were spotted at West Hollywood's The Abbey during Gay Pride is because he was there to document Anna Nicole.
Said Birkhead: "Zero truth to it. I don't know how Cosby can print lies like that without once attempting to contact me. That's journalism 101. I was a photographer. My camera is around my neck in every picture."
Except, of course, for this one, shot at the Abbey. But Birkhead's got the saner explanation here. Anna Nicole was known to flock where she knew her fans were, and on the gayest day of the year? Anyone who has ever spent time on Santa Monica on that Sunday in June (or The Abbey these days) knows the straights aren't afraid to come out in force.
Background
Larry Birkhead Responds to Gay Allegations on Larry King Live [tr]
Threats Fly Over Birkhead-Stern Gay Sex Claims in New Book [tr]