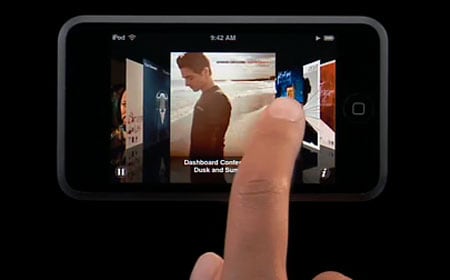 Please welcome Robbie Daw, who will be penning occasional music posts for us here on Towleroad! Robbie runs his own pop music site called Chart Rigger.
Steve Jobs revealed the latest updates to Apple's iPod line at a press conference in San Francisco today. Despite insistent buzzing over the past week online, there was no surprise Madonna appearance at the event or unveiling of The Beatles' back catalog for the iTunes music store, although KT Tunstall performed live. Mostly the revelations stuck mainly to the MP3 player itself.
The big news is the all new 8mm thin iPod Touch, which will use the same interface as the iPhone (and has approximately the same size screen). "We think it's one of the seven wonders of the world," Jobs joked. The Touch player has Wi-Fi capabilities that allows users to now search for and download songs from the iTunes Wi-Fi music store. They've also struck up a deal with Starbucks to allow downloading and music discovery from their locations. The iPod Touch also features a Safari browser and YouTube channel.
The iPod Touch has a battery life of 22 hours and is available in 8 GB ($299) and 16 GB ($399) sizes. It ships to stores by the end of the month. iPhone users will also receive an update connecting them wirelessly to the iTunes store, and Apple has dropped the price point on the 8GB iPhone by $200, to $399.

Klaxons have won England's Mercury Prize — "Europe's top arts prize in terms of influence and media coverage." In the 15th year of the award, Klaxons beat out a list of nominees that included Amy Winehouse, Bat For Lashes, and Arctic Monkeys.
Klaxons – Myths of the Near Future [iTunes]

They're not exactly covering James Blunt's new single, but The Feeling were recently posed with the task of choosing a song from the year 1973 to cover for a compilation celebrating the 40th anniversary of the BBC's Radio 1 station.
Forty artists were each given a year to choose a song from spanning across the station's time on the air. The Feeling's openly-gay frontman Dan Gillespie-Sells explained on the band's website why they picked Carly Simon's "You're So Vain": "When they gave us 1973, it was actually quite hard to pick a song that we wanted to do. There were obvious things like, 'Life On Mars' by David Bowie, but I thought we should do a song that was very unlike us. So eventually we went for the Carly Simon track. We recorded it down in the big country house where we were working on our new album. It started off as a late-night jam and eventually mutated into this weird version of the song. It doesn't really sound like us or the original…I really like it, but it's pretty bonkers too."
Other acts on the tribute set include Robbie Williams doing "Lola" by The Kinks, Amy Winehouse covering "Cupid" by Johnny Nash," Kylie Minogue taking on Roxy Music's "Love Is The Drug" and Natasha Bedingfield with her version of Madonna's "Ray Of Light."
is even working with former Buggles singer-turned-mega-producer Trevor Horn in sessions for their sophomore album.
The double-disc Radio 1. Established 1967 will be available October 1 from Universal. [Full track list]

NEWS BITES: Being in a band is bad for you.
Princess of Monaco's daughter makes a cameo in Justice's VMA-nominated video for "D.A.N.C.E."
Whitney and Bobby's custody battle heating up.
Kelly Clarkson's tour is back on track.
Bernard Sumner on upcoming Joy Division biopic, Control: "We were more youthfully idiotic than that."
Ne-Yo doesn't wait around for Britney.
Courtney Love on reports she publicly bashed Amy Winehouse: "I keep my own counsel about sex, drugs and rock 'n' roll and I do not judge others unless I know they are a danger to other people beloved in my own life."
20-year-old Eurythmics record inspired Darren Hayes to make his latest album.
Lily Allen curbs her enthusiasm.
After the jump – fake Madonna cover art, the soundtrack to the Mormon Men On A Mission calendar and the week's slim new releases.

Nothing signals a new Madonna album barrelling down the tracks moreso than the slew of Photoshopped fan artwork passed off as the real thing. And blogger XOLondon has been having a field day warning M's followers of the chicanery amiss.
Here are some recent Madge-similes the D.C.-based blogger has picked up on:
This next one kinda takes the cake. You have to at least admire the enthusiasm (Incidentally, it was e-mailed out over the weekend to various websites by someone purporting to be Madonna's business partner, Guy Oseary):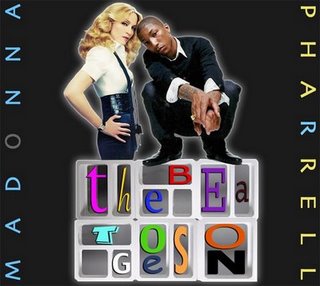 There's a new YouTube video for the 2008 Men On A Mission calendar featuring former Mormon missionaries getting unbuttoned:
Doug and Derek Perry — aka The Perry Twins — are the ones behind "Activate My Body," the song you're hearing in the promotional clip. For singing chores, the Los Angeles-based gay brothers enlisted club belter Jania.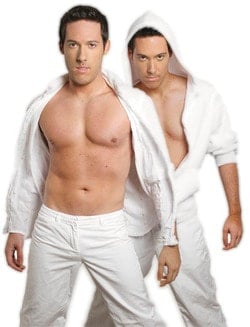 And, really, it's all about the vocals, no?

NEW RELEASES: (This week finds the calm before the storm, really, before the 50 Cent/Kanye West showdown on Tuesday.) U.K. hip-hop artist Just Jack's second album, Overtones, containing his collaboration with Kylie Minogue, "I Talk Too Much."
Latin alternative artist (and Coachella favorite) Manu Chao's first American studio release in six years, La Radiolina.
Patti Scialfa's Play It As It Lays, featuring her fellow E Street Band mates (including husband Bruce Springsteen).
High, the tenth studio album for British rockers New Model Army.
ToHeavenURide, a live album from Michelle Shocked.