Activist Australians going for world-record moon attempt — at President Bush: "Bush is coming to Sydney. Thousands of police, total CBD lockdown, draconian new laws to stifle all protest. Just so nothing disturbs Howard's moment of glory. APEC's agenda is more free-market madness, more nuclear power, more warmongers deciding how best to fuck the world over. Is this the future we want? Let's tell Bush what we really think about his visit. Only 4000 cheeks are needed to make the biggest moon in history – a world record Australia can really be proud of. There will also be an official '21 bum salute' for the 21 countries in APEC."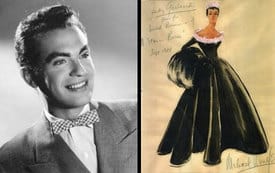 Michael Woulfe, costume designer in Hollywood's "golden age" including Judy Garland's gown for A Star is Born, has died at 89.

Tropical storm swirls off east coast, could become Gabrielle in coming days and threaten seaboard cities including New York. Models.

MELT: Ice-free arctic could be here in 23 years. "The Arctic ice cap has collapsed at an unprecedented rate this summer and levels of sea ice in the region now stand at a record low, scientists said last night. Experts said they were "stunned" by the loss of ice, with an area almost twice as big as Britain disappearing in the last week alone. So much ice has melted this summer that the north-west passage across the top of Canada is fully navigable, and observers say the north-east passage along Russia's Arctic coast could open later this month. If the increased rate of melting continues, the summertime Arctic could be totally free of ice by 2030."

Chef Gordon Ramsay demonstrates how to grill his own testicles: "The other day I was standing too close to the hob when I was cooking. I was wearing cotton trousers and underneath I was going commando. Then suddenly I felt this searing heat – my b***s were burning. I burnt my right b*****k and I'm in absolute agony. You wouldn't believe how much this hurts."

Puncture: Vampires in SoHo?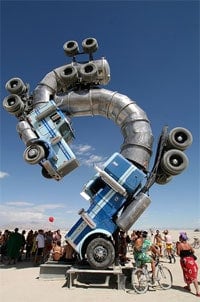 Art on the playa: Burning Man's twisted trucks.

Britney Spears and Criss Angel pull it together for the VMAs.

Restrictive 2257 regulations set to go into effect against adult entertainment sites that could kill social networking sites like Manhunt, etc. You have until September 10 to object.

Ohio GOP congressman Paul Gillmor found dead in his apartment, of natural causes.

** The source of this item, Digital Media Wire, has issued a correction. (below) PlanetOut planning 1 for 10 reverse stock split: "Companies typically carry out such transactions to reduce the number of overall shares, and in turn increase the share price. San Francisco-based PlanetOut has seen its share price drop from around $4.50 a year ago to hover closer to $1.50 in recent months. The troubled company was rescued from bankruptcy in July by an investor group ledthat included by Bill Gates, and is undergoing a restructuring that has recently seen the departure of CEO Karen Magee and CFO Daniel Miller, as well as Bob Allen Bob Cohen, chief of its top magazine titles. PlanetOut expects to enact the reverse split on or near Oct. 1."
CORRECTION: *PlanetOut CEO Karen Magee has not stepped down, CFO Daniel Miller leaves at the end of the month, and Bob Cohen is the magazine chief who left as his magazine contract was not renewed. Further, Bill Gates'
Cascade Investments was one of six investors in the company's funding, but did not
lead it. We apologize for the errors and will continue to hone the sources we tap for your news.

One more word on Larry Craig from the Huff Post's Edward Ugel, though Cindy Adams may have said it more concisely.