Catching up on some news that broke yesterday, last December I posted about an incident in Worcester, Massachusetts where VoteOnMarriage.org was holding a rally against same-sex marriage. Sarah Loy was there to protest the event. Catholic Citizenship group executive director Larry Cirignano left the podium while he was speaking to assault her.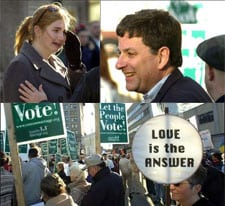 According to the Worcester Telegram, Cirignano "grabbed her by both shoulders and told her, 'You need to get out. You need to get out of here right now.' Mr. Cirignano then pushed her to the ground, her head slamming against the concrete sidewalk…Ms. Loy was holding a sign that read, 'No discrimination in the Constitution' and counter-demonstrators were chanting, 'You lost, go home, get over it,' when she was pushed to the ground. Afterward, Ms. Loy, in tears, arose and yelled to no one in particular, 'That's what hate does. That's what hate does.'"
The Patriot Ledger reports: "A jury Monday cleared Larry Cirignano, one-time executive director of Catholic Citizenship, on a charge of assault and battery. Judge David Despotopulos on Thursday tossed out a civil rights violation charge against Cirignano."
The jury reportedly decided Loy tripped and was not pushed.