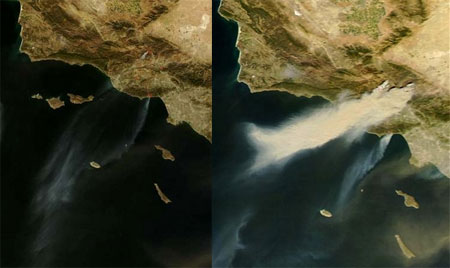 More than 250,000 households have been told to evacuate in San Diego as wildfires rage around Southern California. The satellite shots above of the Los Angeles area were taken about three hours apart and show how quickly the Santa Ana winds can turn a containable wildfire into a raging inferno:
"The air is hot not because it is bringing heat from the desert, but because it is flowing downslope from higher elevations. As fall progresses, cold air begins to sink into the Great Basin deserts to the east of California. As the air piles up at the surface, high pressure builds, and the air begins to flow downslope toward the coast. When winds blow downslope, the air gets compressed, which causes it to warm and dry out. In fact, the air can warm at a rate of 29 degrees Fahrenheit per mile. Canyons and passes funnel the winds, which increases their speed. Not only do the winds spread the fire, but they also dry out vegetation, making it even more flammable."
Things are looking quite frightening around most of SoCal, including the Irvine area, below.
Those of you in danger are in our thoughts.