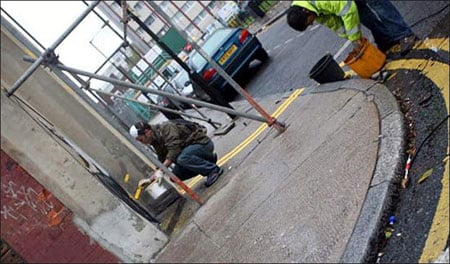 On Monday I reported that the council in East London had issued a directive to city workers to begin cleaning up Banksy's subversive graffiti art from city walls, despite its skyrocketing value. Last week, a number of Banksy works that went on auction at Bonham's eclipsed all estimates: "According to the Web site for Bonhams auctioneers, 11 works fetched a total of 455,000 pounds ($930,000), compared with a pre-sale estimate of around 300,000 pounds. Including buyers' premiums, the total rose to more than 500,000 pounds."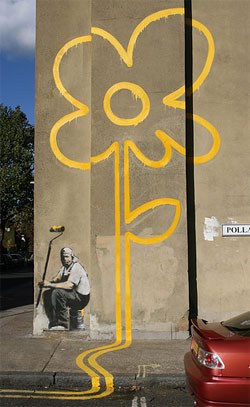 The Independent reported on East London's Banksy cleansing order: "Never mind that art tourists come from all over the world to try to spot the Grim Reaper with the smiley face or some of the other 30 or so Banksy works that have been made inside the borough boundary since he first started working with stencils seven years ago. The council says it will remove the art 'whenever we find it'. In that case, officers must be the last people in London not to know where it is. Maps available on the internet give exact locations. They also show where the cocaine-snorting policeman or the dinner-jacketed rats with a red carpet to their hole used to be. Banksy has been a victim of the street teams before, you see – but usually by accident."
It appears that Banksy, who cultivates his image through stealth and secrecy, has been caught in the act for the first time, by a pedestrian with a camera phone. Alleged photos of the prankster have surfaced before, but never while actually painting one of his distinctive stencils.
A crouched man was photographed painting a wall in East London, in the part of town where city workers have been ordered to cover up his work, and most agree it's Banksy, apparently throwing down the gauntlet to the city council. He's known to thumb his nose at the establishment.
The Times Online reports: "Banksy, whose real name is thought to be Robert or Robin Banks, is known for his artistic pranks, which have included releasing an inflatable Guantanamo prisoner doll in Disneyland. The British Museum took eight days to realise that Banksyus Maximus, a rock depicting a Stone Age hunter with a shopping trolley, was not a genuine artefact. This summer he made a Stonehenge-style circle at the Glastonbury Festival out of portable toilets, and he once painted a hole with blue sky poking through the Palestinian side of the West Bank wall."
The new East London Banksy work features an artist or street worker sitting beneath a flower that appears to have sprung from the double yellow line running down the center of a nearby street.
You may have missed…
Brangelina Spend Bank on Banksy at London Gay Bar [tr]