Defense of Family and Marriage Again, the "pro-family" group in Oregon led by former senator Marilyn Shannon which has worked feverishly since April to collect enough signatures to challenge a domestic partners law scheduled to go into effect in January 2008, has failed to turn in the required amount of legitimate signatures to block the new law.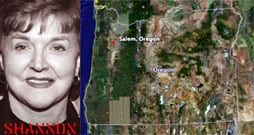 The AP reports: "State elections officials reported Monday the effort fell only 116 valid signatures short of the 55,179 needed to suspend the law and place it on the November 2008 ballot for a popular vote. That means that as of Jan. 1, Oregon will join eight other states that have approved spousal rights in some form for same-sex couples – Connecticut, Vermont, New Hampshire, New Jersey, Maine, California, Washington and Hawaii. Massachusetts is the only state that allows gay couples to marry."
Another law, one banning discrimination based on sexual orientation in employment, housing, and public accommodation, is also being challenged, but officials say foes may also lose on this one as well.
Still, bigotry does not tire easily: "Sponsors of the referral effort had conceded in recent days that they probably hadn't gotten enough signatures. But they vowed to take another avenue to try to derail the laws – an initiative effort to repeal the laws outright. They would have until next July to collect signatures for that effort."
Said Shannon: "We're not discouraged. We definitely will file initiatives to repeal both of these laws."
In any case, a great step forward for Oregon.