Rhode Island Supreme Court to hear arguments tomorrow in the case of two lesbians who married in Massachusetts but want a divorce in Rhode Island: "A Family Court judge has asked the state Supreme Court to decide whether he has the authority to rule on what's believed to be the state's first same-sex divorce case. Lawyers for the women say the case has no bearing on whether gay couples can get married in Rhode Island. The General Assembly has repeatedly rejected gay marriage bills."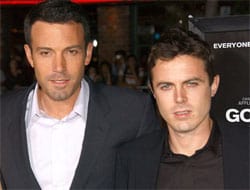 Contemplating the hotter Affleck.

More hate in Vermont: Burlington school hit with anti-gay graffiti. "Vandals spray-painted a swastika and other racist messages around the entrance to the city's middle school, but maintenance staff were able to clean it up before classes started Monday, officials said. Linda Carroll, principal of the school, said the graffiti included racist, homophobic and anti-Semitic words and images."

Gawker took a trip to OUT magazine's party for their most recent issue, featuring the bare ass of Tom Ford.

Street in the San Fernando Valley to be named for lesbian psychotherapist Betty Berzon.

Brad Pitt and family are setting up home at the Waldorf-Astoria in New York for a cool $100K a month.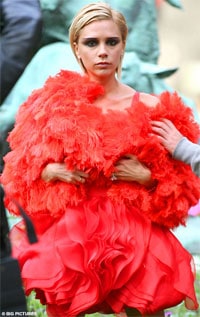 Victoria Beckham poofs out in Paris.

Superbad director Judd Apatow lashed out at studio executive who axed his TV shows: "I don't understand how you can [bleep] me in the [bleep] when your [bleep] is still in me from last time."

Ricky Gervais lampoons George Michael's sex life in Extras (clip).

Richard Nixon called Fred Thompson, then a young Senate lawyer, "dumb as hell" during the Watergate investigation.

A group of climbers hauled a portable Jacuzzi to the top of Mont Blanc, set it up, and got in. Wouldn't be too much fun if that thing slid down the hill. (via kottke)

Performance by former Kids in the Hall actor Scott Thompson at Softball Gay World Series inspires letters of apology from tournament director: "According to our source, the comedian began bombing right after he dissed Kathy Griffin. You don't diss Kathy to the gays! He then went on to clear out the stadium with 'lame vulgar jokes and even used the N word.' At one point, he stopped his act and addressed a gaggle of lesbians that turned their backs to him, and said, 'Thanks for turning your backs while I'm here actually trying to do something. Trying to perform!'"