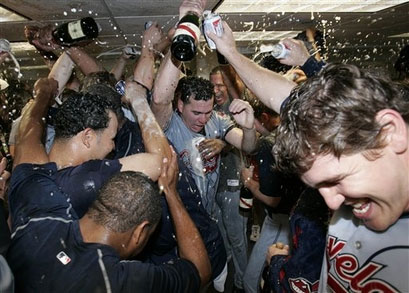 Break out the bubbly! Today we had our 100,000th comment on Towleroad. As I was watching the comments come in this morning, inching toward 100K, I was hoping that the comment would be left by one of our regulars.
And it was, left under the "Wang Dance" post! Here is our 100,000th comment:
*****
Years ago, when the TV cameras went into the locker rooms (after play off games) you would often see naked pro football & basketball players on national TV. Now, only the local TV sports locker room interviews make such "mistakes"…dammit. Hell, how else do you think a queen like me became a football fan?
Posted by: Derrick from Philly | Oct 11, 2007 10:45:45 AM
*****
In the spirit of those stores that give surprise prizes to their millionth customers, I'd like to offer Derrick a Towleroad T-shirt. I'd also like to ask Derrick to choose five other commenters to which he'd like us to send T-shirts. I know it's not much, but I really appreciate those of you who are active in the site and continue to participate.
We also really appreciate the tips you all send in, even if we're not able to use all of them. Keep sending 'em!