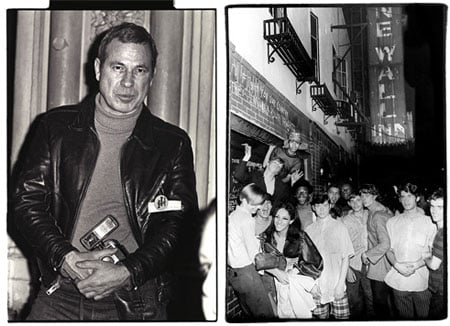 Village Voice photographer Fred McDarrah, who chronicled life in New York for nearly fifty years, died in his sleep in Greenwich Village yesterday. He was 81.
Lots of examples of McDarrah's work can be seen here. He was really one of the greats.
The photo above, right, was taken two nights after the Stonewall Riots on June 29, 1969 outside the Stonewall Inn. The chalk message scrawled on the brick wall reads: "To fight for our country, they invaded our rights."
The Voice writes: "Fred captured Jack Kerouac frolicking with women at a New Year's bash in 1958, Andy Warhol adjusting a movie-camera lens in his silver-covered factory, and Bob Dylan offering a salute of recognition outside Sheridan Square near the Voice's old office. Not just a social chronicler, McDarrah was a great photo-journalist. He photographed the still-smoldering ruins of the Weather Underground bomb factory on W. 12th Street. His unerring eye for gesture and detail caught lawyer Roy Cohn whispering what appeared to be tough orders in the ear of a young Donald Trump. For years, McDarrah was the Voice's only photographer and, for decades, he ran the Voice's photo department, where he helped train dozens of young photographers, including James Hamilton, Sylvia Plachy, Robin Holland and Marc Asnin. His mailbox was simply marked 'McPhoto.'"
A few more of McDarrah's shots, after the jump…
Fred W. McDarrah, 1926-2007 [village voice]
Former Village Voice photographer dies, chronicled tumultuous era [newsday]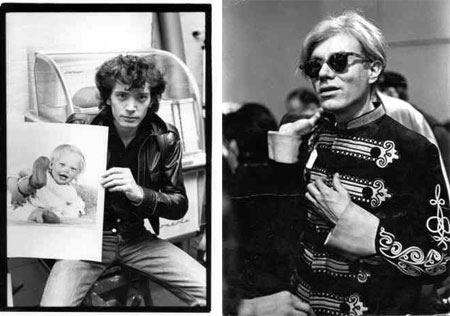 Above, Robert Mapplethorpe in his studio in 1979, and Andy Warhol trying on a bandleader's uniform at a vintage clothing store on St. Mark's Place in 1966.
Below, a photo taken on gay pride on Christopher Street near the Stonewall Inn in 1982.