I think now she's doing it on purpose. Britney Spears has run over another foot.

Striking gay WGA writers are holding their own march: "It will totally be "Norma Rae" meets the Abbey."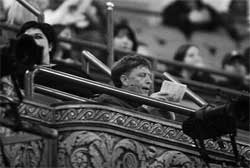 Closet Idol fan? Bill Gates spotted at Kelly Clarkson concert.

In wake of progressive Democrats move to censure Dianne Feinstein, her spokesperson defends: "[Feinstein] has been an independent voice for California."

Barack Obama says there are no existing records from his days in the Illinois state senate: "'I don't have _ I don't maintain _ a file of eight years of work in the state Senate because I didn't have the resources available to maintain those kinds of records,' he said at a recent campaign stop in Iowa. He said he wasn't sure where any cache of records might have gone, adding, 'It could have been thrown out. I haven't been in the state Senate now for quite some time.'"

Meet the Dixie Chicks of competitive Bridge.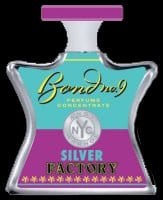 Andy Warhol Foundation launches first of several fragrances: "The scent developed by Aurelien Guichard is a smoky yet spicy cocktail of incense, grapefruit, wood resin, amber jasmine, cedarwood and violet, one Warhol's favorite aromas. The term is no longer '€˜unisex'€™ but '€˜universal'€™ to indicate that the perfume can be worn by both men and women and is said to smell like metallic rubber."

For you Scissor Sisters fans (or haters, I suppose): Whack-a-Sister.

Scab-lash: Ellen DeGeneres cancels NYC tapings. "We're delighted that Ellen DeGeneres has decided not to come to New York to tape her program. She knows that the Writers Guild East would have been there to protest her lack of solidarity, not only with her Guild writing staff but all the striking members of the Writers Guild, of which she is a member. We will be even more delighted if she does not cross the Guild picket lines at the NBC Studios in Burbank, where her show usually is produced."

Scientists identify oral sex "swallower" gene…in fish.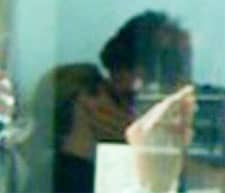 Yes, Jake Gyllenhaal and Reese Witherspoon have been captured swapping spit in public.

Broadcast of McCain supporter calling Hillary Clinton a bitch sparks war between McCain campaign and CNN: "Now McCain's campaign is trying to turn this to its advantage — by opening fire on the network and portraying it as both a Hillary ally and a liberal media foil to McCain. McCain campaign manager Rick Davis has just blasted out an email to supporters demanding that CNN apologize to the Arizona Senator for smearing him."

Bjorn Borg unveils new underwear line, and invites folks to send in pictures of themselves wearing it. Flashback: Model Search.

In July 2006, Patricia Todd became Alabama's first openly gay elected official when she ran a run-off race in the House. Pam Spaulding over at Pam's House blended has posted a series of videos of Todd talking about some of the homophobia she faced during her election.

BOOK: Gay community in Vegas on the upswing.