In response to the nearly $11 million awarded to the father of a slain U.S. Marine in a case brought against Fred Phelps' Westboro Baptist Church and its heinous practice of picketing soldiers funerals, the U.S. District Court in Baltimore ordered the church's financial records unsealed.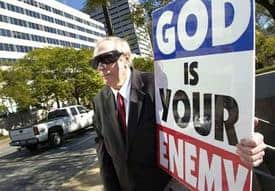 The Baltimore Sun reports: "Eight pages of documents submitted in U.S. District Court in Baltimore by the church and three of its members – and made public at The Sun's request – reveal they have a net worth of almost $1 million but do not fully explain how the church is able to fund its picketing near military burials across the country. Church leaders, including its founder, Fred W. Phelps Sr. (pictured), contend the jury did not take into account their net worth when it imposed an award of more than 10 times their financial holdings. But lawyers for the Marine's father countered that church members lied in their financial statements submitted to the court. The church's balance sheets will now take center stage as the judge decides how much, if any, of the award Westboro should pay."
Westboro Baptist claims that the deaths of U.S. soldiers in Iraq and Afghanistan are God's wrath against a nation that tolerates homosexuality. According to the paper, "Church members filed papers late last week with U.S. District Judge Richard D. Bennett to have him strike down the $10.9 million award as unconstitutional."
And despite the judgment, the church says it will resume picketing.