Ireland appears to be moving one step closer to marriage equality: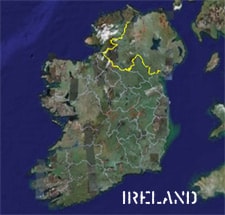 "Minister for Justice Brian Lenihan said he would publish an outline of his legislation by March 30th and vowed it would become law during the lifetime of the current Government. 'The Government has asked me to prepare a Bill which will provide for the registration of civil partnerships of same sex couples,' Mr Lenihan said. 'It will also provide protection for other relationships which lie outside marriage but which may be heterosexual or same sex.' Currently gay and lesbian couples cannot marry each other under Irish law and are therefore ineligible for the legal benefits that apply to heterosexual married couples. Legislation for civil partnerships during the lifetime of the Coalition was promised in the Programme for Government…Green Party justice spokesman Ciarán Cuffe said the Government proposal would give cohabiting gay and lesbian couples, who register their relationship with a new agency, the same rights under the law as heterosexual couples. 'This is a major step forward in Irish equality legislation,' he said."
Last July at the opening of a renovated LGBT community center in Dublin, Ireland's Taoiseach Bertie Ahern promised to push legislation that would allow same-sex couples the same rights as heterosexual married couples as soon as possible.