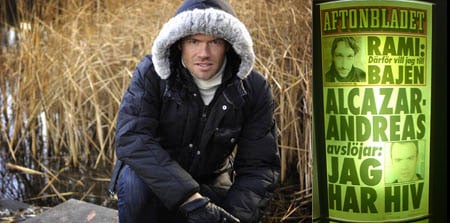 Andreas Lundstedt, the lead singer of the Swedish pop-disco group Alcazar, has revealed to QX magazine that he is HIV positive.
The Local reports: "Rumours that he was infected had been circulating in music circles for a number of years, but until now Lundstedt had kept his diagnosis to himself. He told QX that he was revealing his status now because 'I feel I am at the right stage in my life.' Lundstedt is the first Swedish entertainment star since the eighties to admit publicly to being HIV positive. He said the strain of the virus with which he was infected is not as aggressive as some other strains. 'I'm lucky in that I don't need to swallow masses of tablets,' he said, adding: 'I feel great. This is nothing that affects my daily life.' The singer said he did not know who infected him and had never felt a need to know. He told his then-boyfriend immediately following the diagnosis. None of Lundstedt's partners since then have been infected, including current partner Mattias, he said. Among his ex-boyfriends is former Alcazar band-mate Magnus Carlsson."
Alcazar's European breakthrough hit was "Crying at the Discotheque". They also achieved success here in the U.S. with "This is The World We Live In" and a more recent remake of Human League's "Don't You Want Me".
(image and news via a swede in sf)