Gary Cloutier, the openly gay candidate for mayor of Vallejo, California, who was named the winner by five votes and then ousted by a recount, is now alleging fraud and "sloppy tallying" after an absentee ballot for him was discovered in the trash.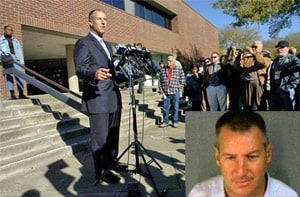 Cloutier, if elected, would be the San Francisco-area city's first gay mayor. His rival Osby Davis, would be the city's first black mayor if elected to office.
The AP reports: "Cloutier says the recount was riddled with problems. At one point, Davis led by three until an absentee ballot for Cloutier was found in a pile of plastic bags. Cloutier calls that evidence of fraud and went to court Tuesday, unsuccessfully seeking a court order stopping Davis from taking over as mayor. County officials deny that there was any fraud or that a vote was tossed in the trash. County spokesman Stephen Pierce said the ballot had been erroneously set aside and both candidates were immediately informed of the find. The seesaw results have divided the community, said Hank A. Howard, who was among those watching Cloutier's court challenge. But Howard, who voted for another of the four mayoral candidates, said there is one outcome everyone can agree on: Your vote counts. Cloutier can still contest the results in a trial and has said the issue is 'far from over.' After Davis was sworn in Tuesday night, Cloutier left the council chambers, but not before echoing actor and Gov. Arnold Schwarzenegger. 'I'll be back,' he said."
Cloutier has already had his share of controversy in the process. Days before being announced the winner of the election, he was arrested for public intoxication in Palm Springs.
Backstory…
New Gay Vallejo Mayor Gary Cloutier Loses Election in Recount [tr]
Gary Cloutier Declared "Unofficial Winner" in Vallejo Mayoral Race [tr]
Gay Vallejo Mayoral Candidate Arrested for Public Intoxication [tr]
Vallejo, California Mayoral Candidates Battle to Be a First for City [tr]