Hungary's parliament approved a law on Monday bestowing a host of new rights on same-sex couples, allowing them to register their relationships as civil partnerships: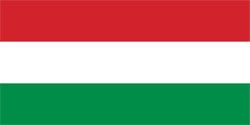 Reuters reports: "Registered couples will have the same rights as married heterosexual couples in inheritance, taxation and other financial matters. But they will not be allowed to adopt children, unlike married couples. After decades under communist rule when homosexuality was banned or simply out of sight, it is far less widely accepted in Eastern Europe than in most of Western Europe. The Czech Republic and Slovenia allow same-sex partnerships to be registered, but none of the former communist states allow gay marriages."
The law passed by a vote of 185-154, with nine abstentions.
You may have missed…
Hungary Gay Pride Lifted by Coming Out, Marred by Violence [tr]