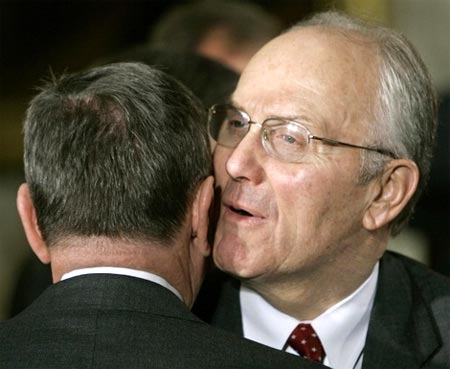 Not content to let Senator Larry Craig's now famous statement — "I am not gay, I never have been gay" — stand, the Idaho Statesman has continued to ferociously pursue claims by four men that they had sex with Craig. Yesterday they published a blistering exposé which collected the five men willing to come forward and discuss their intimate relations with the Senator, complete with audio recordings: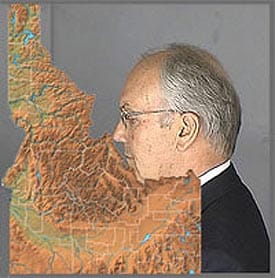 "David Phillips is a 42-year-old information technology consultant in Washington, D.C., who says Craig picked him up at a gay club in 1986 and that they subsequently had sex. Mike Jones is a former prostitute who told the world he had sex with the Rev. Ted Haggard last year. The former Colorado Springs evangelist at first denied it but eventually confessed. Jones says Craig paid him for sex in late 2004 or early 2005. Greg Ruth was a 24-year-old college Republican in 1981 when he says he was hit on by Craig at a Republican meeting in Coeur d'Alene. Tom Russell, now 48, is a former Nampa resident who lives in Utah. Russell said his encounter with Craig occurred at Bogus Basin in the early 1980s. A fifth gay man, who is from Boise but who declined to be named for fear of retaliation, offered a recent and telling account: He was in a men's restroom at Denver International Airport in September 2006 when the man in the next stall moved his hand slowly, palm up, under the divider. Alarmed, the man said he waited outside the restroom and then identified the man in the adjoining stall as Craig, whom he had met in Idaho."
The Statesman, which gives each man's story in extensive detail, says, "As with [our] August report, the new evidence is not definitive. There are no videos, no love letters, no voice messages. Like last August, they are he-said, he-said allegations about a man seeking discreet sex from partners whom he counted on to never tell. But the Statesman's investigation, which included reviews of travel and property records and background checks on all five men, found nothing to disprove the five new accounts. The men offer telling and sometimes similar details about what happened, or the senator's travel records place him in the city where sex is alleged to have occurred, or his accusers told credible witnesses at the time of the incident."
Listen to David Phillips here, here, and here. Listen to Mike Jones here, here, here, and here. Listen to Greg Ruth here. Listen to Tom Russell here, here, and here. WARNING: Some of the audio recordings may contain graphic language.
Larry Craig released a statement responding to the Statesman's claims. Said Craig: "Like its previous coverage, these latest allegations are completely false and have no basis in reality. In fact, the paper itself states that these baseless accusations contain no definitive evidence, yet they still decided to print them anyway. Despite the fact the Idaho Statesman has decided to pursue its own agenda and print these falsehoods without any facts to back them up, I won't let this paper's attempt to malign my name stop me from continuing my work to serve the people of Idaho"
Good luck with that.
More gay men describe sexual encounters with U.S. Sen. Craig [idaho statesman]
Craig: Statement's Completely False [idaho statesman]
(image via daily dish)