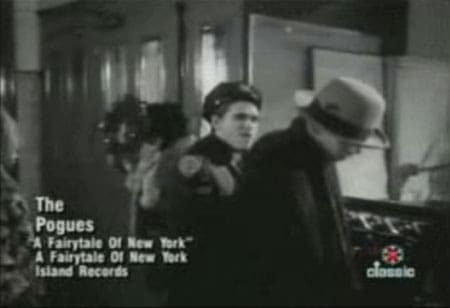 Please welcome Robbie Daw, who will be penning weekly music posts for us here on Towleroad! Robbie runs his own pop music site called Chart Rigger.

In the U.K., the BBC backed down a day after announcing its decision to censor the word "faggot" from Radio 1 plays of The Pogues' holiday classic, "Fairytale Of New York". The 1987 song, a duet with deceased vocalist Kirsty Maccoll, features reminiscent bickering between fictional ex-lovers, wherein Maccoll admonishes Pogues' singer Shane MacGowan with "you scumbag, you maggot, you cheap lousy faggot," and he refers to her as "an old slut on the junk."
The BBC had previously said, "We are playing an edited version because some members of the audience might find it offensive." Today, the BBC reported, "Controller Andy Parfitt said the original decision was 'wrong'."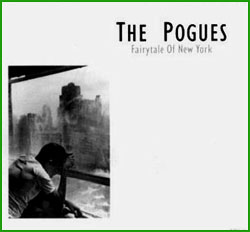 The decision came after the Stonewall organization took the BBC to task for its apparent hypocrisy, as popular morning show DJ Chris Moyles refuses to apologize for his frequent use of the word "gay" in a manner "more associated with homophobic playground language."
Stonewall chief Ben Summerskill said to PinkNews.co.uk: "We would be happier to see Radio 1 take action against the persistently anti-gay Chris Moyles rather than bleep one word of a Christmas classic." In an awards ceremony put on by Stonewall last year where Chris Moyles was named Bully Of The Year, host Ian McKellen commented, "Chris Moyles repeatedly uses the word gay in the playground sense, without apology, that is inappropriate language for a host of a national breakfast show who speaks to millions of young children."
The U.K. paper The Telegraph also published comments from readers regarding the censorship of "Fairytale Of New York." Said one man identifying himself as gay: "To begin altering songs made long ago would mean bleeping out a lot of the music back catalogue. However, if the song was made today and directed at homosexuals solely then I do think that would be a whole different story."
"Fairytale Of New York" is a Christmastime staple on U.K. radio. The song originally peaked at #2 on the British chart in December 1987, held back by the Pet Shop Boys' "Always On My Mind." It has been re-released on several occasions, and is currently at #8 in this week's U.K. Top 10.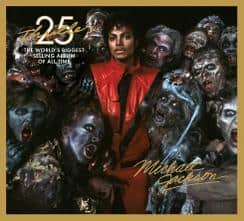 Within three days of its YouTube debut, Britney Spears' "Piece Of Me" video has garnered over 1.6 million views. There's nary a Chris Crocker cameo to be seen in the paparazzi-themed clip, but dig those backing vocals by Robyn.

Specifically designed to make you feel old, Epic will release the Thriller: 25th Anniversary Edition (pictured left) February 12. Michael Jackson's landmark album will feature the nine original songs — which include "The Girls Is Mine," "Beat It," "Wanna Be Startin' Something" and "P.Y.T. (Pretty Young Thing)" — as well as remixes, unreleased tracks "Carousel" and "Someone In The Dark," and a bonus DVD with three music videos and Jackson's original performance of "Billie Jean" from the Motown 25: Yesterday, Today And Forever special, where he first unleashed "the moonwalk" upon an unsuspecting world.

Martha Wainwright will join her brother Rufus on stage tomorrow at New York's Highline Ballroom for a Christmas charity performance benefiting SaveDarfur.org.

TODAY'S NEW RELEASES:
Pretty much the only album from a major artist this month, Mary J. Blige's Growing Pains, is out. The singer worked with Ne-Yo, The Neptunes, Polow da Don and Stargate on the record.
Also made available on iTunes are singles from Nick Lachey ("Ordinary Day") and Shelby Lynne ("Anyone Who Had A Heart"). Lynne's full album of Dusty Springfield covers drops in February.

HOLIDAY CLIPS: I'll leave you with the music video (featuring a Matt Dillon cameo) for The Pogues' "Fairytale Of New York," and a perhaps less-offensive clip — or more, depending on your tolerance for schmaltz — of a 15-year-old, pre-Take That Gary Barlow performing his original composition "Let's Pray For Christmas" in a 1986 song competition on BBC's Pebble Mill. He didn't win.