Same-sex marriage supporters turn out to testify in Vermont: "Members of the Vermont Commission on Family Recognition and Protection heard only statements of support for moving past civil unions to same-sex marriage during the two-hour hearing at Montpelier's Statehouse. It was a startling switch from the legislative hearings on civil unions in the same building seven years ago, which attracted hundreds of divided Vermonters who passionately argued both for and against a legal recognition of same-sex couples."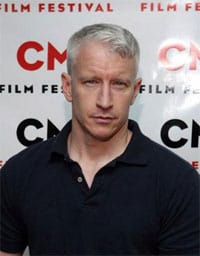 Anderson Cooper taking suggestions for AC360 voiceover intro personalities. Coop: "While we have not made a final decision, I thought I'd let you know about our four finalists, and if there is anyone else you think should be considered, please let us know. In no particular order, the four people we are considering hiring to introduce 360 everynight are: Fran Drescher, Clint Eastwood, Paul Reubens (aka Pee Wee Herman), Cher. Personally, I'm arguing for Fran Drescher, but I'm keeping an open mind." (via popnography)

With Britney Spears a bigger mess than ever, and her younger sister Jamie Lynn Spears now knocked up, their mother Lynne Spears makes the family's ONLY recent wise decision and decides to put the parenting book she wrote on hold — indefinitely.
<

710-year-old copy of the Magna Carta sold at auction for $21.3 million by David Rubenstein, of The Carlyle Group: "Bearing the seal of King Edward I and dated 1297, it is one of 17 known copies of the historic tract that defined human rights as the foundation for liberty and democracy as it is known today. It is one of two that exist outside Britain; the other is in Australia."

New Zealand warehouse worker fired for posting note on social networking site Bebo that said "work sux" and working until midnight was "gay like the management". Sux for her.

Justin Timberlake shows off his helium heels for Super Bowl ad.

American Gladiator Alex Castro has a gay porn past: "Before he joined the cast of NBC's recently relaunched American Gladiators and began wielding gigantic Q-tip shaped battle thingies, Alex Castro, the drop-dead gorgeous massive mound of muscle, was wielding more "personal" and impressive clubs as a highly-paid gay porn model."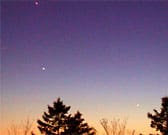 Mars closest to Earth and brightest in recent and coming days: "In addition to being at its closest to Earth December 18, Mars will be more-or-less at its brightest on Christmas Eve. December 24, Mars will be at opposition (perfectly opposite the Sun, with the Earth on the other side). December 23, Mars will likely attract the most attention, as it rises extremely close to the Moon, and will even be occulted (or blocked-out) for viewers in the West – A prime digital camera opportunity, either way."

Japan's top government spokesman: UFOs exist.

Gay cops on both coasts embroiled in lawsuits. In L.A., a jury is set to hear closing remarks in a suit alleging discrimination based on sexual orientation, and in New York, an officer acquitted after being targeted in an undercover sting by the NYPD has been fired by the city. Asked his lawyer: "Why does the NYPD want to humiliate and embarrass themselves in front of a jury about what they did to him? All the 12 jurors who found him not guilty were livid and outraged at what the New York City Police Department did to one of their own."

Augusten Burrough's new book cover revealed.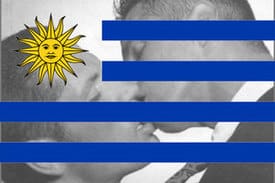 Last month I reported that Uruguay was set to legalize civil unions. Now, with the Senate's approval, it has been done: "Under the new law, gay and straight couples will be eligible to form civil unions after living together for five years. They will have rights similar to those granted to married couples on such matters as inheritance, pensions and child custody. Uruguay's Senate passed the bill unanimously after the lower house approved it last month, a congressional spokesman said. The country's center-left president is expected to sign it into law. Several cities, including Buenos Aires and Mexico City, already have gay civil union laws on the books. Uruguay's law would be the first nationwide measure in Latin America, which is home to about half the world's Roman Catholics."

Ryan White's former attorneys publish letter responding to Huckabee's statements on AIDS.

Larry Craig secures $1.6 million earmark for dude ranch.