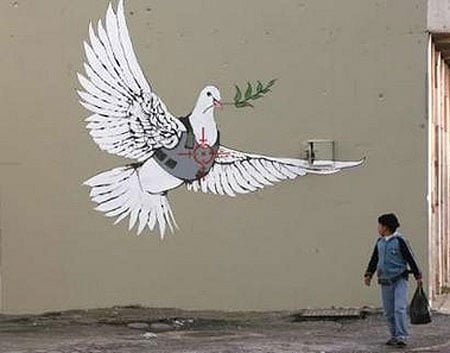 Santa's Ghetto, the Banksy-spearheaded underground art boutique/exhibition shown annually in London (last year on Oxford Street adjacent to the Tottenham Court Tube), has moved to Bethlehem this season in an effort to draw attention to the Israeli-Palestinian conflict.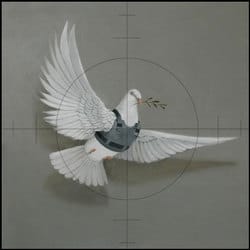 This year it's located in a former chicken shop on Manger Square in Bethlehem opposite the Church of the Nativity, one mile behind the security wall.
Banksy, who is just one of the artists featured in Santa's Ghetto, has tagged the West Bank wall with a few of his trademark stencils in order to draw attention to the event, and told the Guardian he hopes it will help bring tourists back To Bethlehem: "Because of the troubles Bethlehem is no longer a top tourist destination, but it would be good if more people came to see the situation for themselves. If it is safe enough for a bunch of sissy artists, then it is safe enough for anyone."
Among the Banksy works on the wall are a dove in a flak jacket (above). A copy of the original "Dove" painting (right) is currently being held up in customs at Tel Aviv, organizers say: "Whether that's because it's too dangerous to enter the country or because it matches their couch we're still not exactly sure." Much of the art on display is political and pop culture-themed.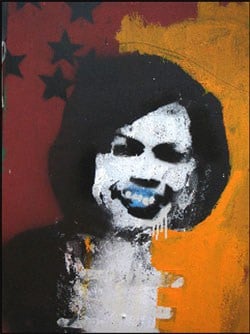 Check out some of the art in the actual show here, here, and here.
The organizers, who describe the annual event as "the world's most low-concept art event" write: "It's obviously not the job of a loose collection of idiot doodlers to tell you what's right or wrong about this situation, so you're advised to do further reading yourself (this month's National Geographic has an excellent article all about Bethlehem). We would like to make it very clear Santa's Ghetto is not allied to ANY race, creed, religion, political organization or lobby group. As an organisation the only thing we'll say on behalf of our artists is that we don't speak on behalf of our artists. This show simply offers the ink-stained hand of friendship to ordinary people in an extraordinary situation. Every shekel made in the store will be used on local projects for children and young people. Not one cent will go to any political groups, governmental institutions or, in fact, any grown-ups at all."
Santa's Ghetto [official site]
Guerrilla artist Banksy in Holy Land [guardian]
Last year
Banksy Mocks Jacko in Santa's Ghetto Portrait [tr]