Gary Cloutier, the openly gay candidate who was declared the winner of the Vallejo, California mayoral election by a tiny margin of five votes, and then declared loser in a recount, filed a lawsuit challenging the results of the recount in Solano County Superior Court yesterday.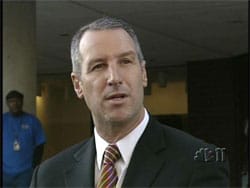 NBC11 reports: "At a news conference outside the courthouse this afternoon, Cloutier said the challenge is based on discrepancies between the machine count of ballots and a manual recount in December. Cloutier won the machine count and was sworn as mayor. Davis then requested a manual recount and [Osby] Davis won by two votes and was sworn as mayor. Cloutier said a ballot in his favor was found in the trash during the recount at the Registrar of Voters office. Cloutier said that indicates the 'potential for mischief' tainted the recount, which he also criticized as unsupervised by county officials. 'The recount is in shambles,' Cloutier said. Cloutier is asking the court to annul the certification of Davis as the winner and to declare him the elected mayor of Vallejo."
Cloutier says he doesn't want another recount, but either wants either a special election to be held, or a judge to decide the winner.
Cloutier would be the city's first gay mayor if elected. Alternatively, Davis would be the city's first black mayor.
Previously
Gary Cloutier Alleges Fraud in Vallejo Mayoral Election Recount [tr]
New Gay Vallejo Mayor Gary Cloutier Loses Election in Recount [tr]
Gary Cloutier Declared "Unofficial Winner" in Vallejo Mayoral Race [tr]
Gay Vallejo Mayoral Candidate Arrested for Public Intoxication [tr]
Vallejo, California Mayoral Candidates Battle to Be a First for City [tr]