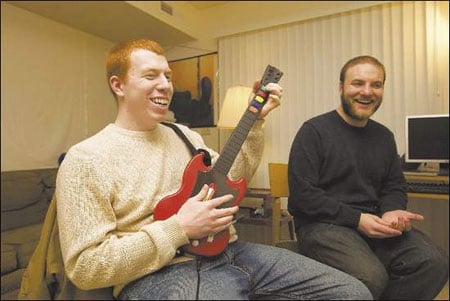 Last week when I posted about the march of bigots that was being planned on the Iowa State House in Des Moines to influence the court over same-sex marriage, a commenter asked, "What I want to know is if those silly college kids who rushed to get married are still together?"
In fact, Sean Fritz and Tim McQuillan are still together, and the "silly college kids" spoke to the Des Moines Register about the aftermath of their historic marriage and how things have been going in the meantime.
The months after the wedding were chaotic: A Labor Day honeymoon in Des
Moines. A hectic week of fielding reporters' phone calls. Catching up on missed
schoolwork. Falling back into smoking cigarettes because of stress. Reading
angry comments about their marriage posted below news stories and in blogs,
having those insults bring down their relationship, then finally learning to
ignore it.

It wasn't until recently, after finals, after the holidays, after giving up smoking again, that they have been able to take a breath to reflect.

They say this: They never realized how much they wanted marriage until after they were married.

"I now realize how important marriage is," Sean said. "I've (known I am) gay since I was a teenager. Gay marriage was always something that's going to happen in the future, but I couldn't go get one, so it wasn't on the table. All the sudden it was on the table. And I got one. I was like, whoa, I really wanted this the whole time, and I was ready for it, and I just told myself I wasn't because it wasn't feasible."

They believe stereotypical gay culture is filled with superficial relationships. Look at pop culture's gay role models, they say. In "Will and Grace," neither Jack nor Will have meaningful relationships. "Queer Eye for the Straight Guy" focuses on fashion and wine but has little substance. Could this superficiality stem, in part, from not allowing gays to marry? And, therefore, is every gay relationship destined to be thought of as temporary?

"When we got married, I realized that made me an adult," Sean said. "Abruptly. … And now I realize that probably has a strong influence upon what we call gay culture, the fact that it's comprised of people who don't consider themselves adults."

"You treat children like children," Tim interjects, "they're going to behave like children. If you treat them as adults and you expect things of them – it's totally an argument of what you expect out of someone. If they've never been expected to get married, they aren't going to. It's pretty harsh social conditioning."

But there's another thing. Because they're gay, they always have felt different from the mainstream. But they never felt part of stereotypical gay culture. They aren't artistic, they aren't bohemian, they don't identify with "Rent."

They've never had gay role models.

So part of what they want from their newfound status is to show a positive example for young gay men who feel lost, like they once were.

"Hopefully, someone reads this who is in the situation I was in," Tim said. "Someone who isn't sure about themselves. They don't think they'll be accepted by everyone. I'm not casting myself as an ideal role model. But I think there's some good out of letting people know our story."
They don't sound like "silly college kids" to me.
Pair reflect on months as married gay couple [des moines register]
You may have missed…
Hundreds of Anti-Gay Bigots Push Iowa High Court on Marriage [tr]
Anti-Gay Marriage Rally Planned Today at Iowa Statehouse [tr]
Two Men Married in Iowa's First Same-Sex Marriage [tr]