A new website from the Center for Public Integrity focusing on ethics in government and public policy as assembled thousands of pre-war statements on Iraq from Bush administration officials in a searchable database: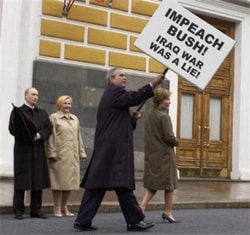 "Charles Lewis and Mark Reading-Smith of the research center say their work has documented 'at least 935 false statements' on hundreds of occasions, particularly that Iraq had unconventional weapons, links to Al Qaeda, or both. The database shows how even after the invasion, when a consensus emerged that the prewar intelligence assessments were flawed, administration officials occasionally suggested that the weapons might still be found."
The NYT notes: "Muckrakers may find browsing the site reminiscent of what Richard M. Nixon used to dismissively call 'wallowing in Watergate.'"
Except that these days there appears to be no accountability.
Late last week, Tammy Baldwin, in a Milwaukee Journal Sentinel editorial, called for impeachment proceedings to begin: "The abuses of this administration demand a formal response. Congressional oversight is a fundamental part of our constitutionally-proscribed system of checks and balances…I had hoped that Congress could begin to repair the damage that has been done to our democracy, our Constitution and our standing in the world, so that censure or impeachment could be averted. Unfortunately, this administration not only fails to accept responsibility for its misdeeds, but it also blocks attempts to right the wrongs and address the tragic consequences of those misdeeds. We have seen the American people's will thwarted by the exercise of veto power. We have seen subpoenas ignored. We have seen signing statements used to circumvent the law of the land…If we fail to take action to either impeach or repair the damage, then the next president will 'inherit' unchecked powers. Unchecked powers are unacceptable no matter who is president."
According to Counterpunch, nine of 23 members of the House Judiciary Committee now favor starting impeachment hearings.
(via think progress)