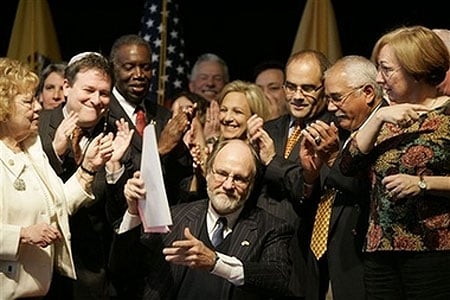 After reading the recent 21-page report put out on Tuesday by the New Jersey Civil Union Review Commission, Governor Jon Corzine, who signed the bill into law in December 2006 (above), expressed doubt about the effectiveness of the 'separate-but-equal' legislation.
Said Corzine: "Although this is not a final report and further evaluation remains, the report does raise significant concerns about whether the law has effectively granted same-sex couples the same rights and benefits of every other family in the state."
Corzine's press secretary noted after Corzine's remarks that it was unlikely any progress would be made toward marriage equality for New Jersey's gays and lesbians until after the election, as Corzine does not want to provide political fodder for conservatives. Said Lila Stainton: "[Corzine] would rather fight for this issue when there is not a presidential election going on."
A copy of the 21-page report can be found at Garden State Equality's site CivilUnionsDontWork.com.