The Senate voted yesterday to give the U.S. government more unconstrained power to spy on its citizens as it granted telecom companies immunity from lawsuits related to such surveillance.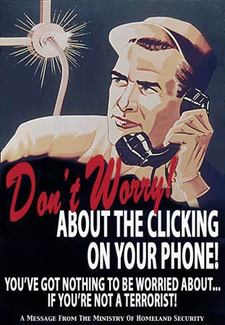 "On a 68 to 29 vote, the Senate approved the reauthorization of a law that would give the government greater powers to eavesdrop in terrorism and intelligence cases without obtaining warrants from a secret court. The Senate's action, days before a temporary surveillance law expires Friday, sets up a clash with House Democrats, who have previously approved legislation that does not contain immunity for the telecommunications industry. The chambers have been locked in a standoff over the immunity provision since the House vote Nov. 15, with President Bush demanding the protection for the industry."
House leaders have vowed to oppose the measure until the White House releases more information about the warrantless surveillance program it began after 9-11.
The WaPo adds: "'This is the right way to go, in terms of the security of the nation,' said Sen. John D. Rockefeller IV (D-W.Va.), chairman of the intelligence committee, which wrote the Senate bill. Rockefeller was one of 17 Democrats who joined 49 Republicans and one independent to reject an amendment offered by Sen. Christopher J. Dodd (D-Conn.) that would have stripped the immunity provision from the bill. Two-thirds of the Democratic caucus opposed immunity. 'It is inconceivable that any telephone companies that allegedly cooperated with the administration's warrantless wiretapping program did not know what their obligations were. And it is just as implausible that those companies believed they were entitled to simply assume the lawfulness of a government request for assistance,' said Sen. Russell Feingold (D-Wis.), who co-sponsored the amendment."