The Evening Standard in London has published portions of former top cop turned mayoral candidate Brian Paddick's memoir dealing with violence at the hands of a former boyfriend, coming out to his wife and parents, and the moments he first realized he was gay: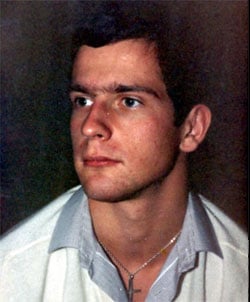 Writes Paddick (pictured here in the early 80's): "After I took my A-levels in the summer of 1976, my parents expected me to go to university but instead I joined the police. I knew that the force would be homophobic but it provided both the perfect cover and necessary encouragement for me to keep my sexuality under wraps. Late one night, shortly after the end of my probationary period, there was a knock on the door of my room in the section house. It was Barry, the guy from the next room, whom I had been admiring from afar. He was standing there in his underpants. 'I've noticed something about you, Brian," he said. 'The way you look at me and some of the other guys.' My heart raced. My first thought was that I had been 'outed' and my career was over. But Barry told me not to worry, he wasn't going to tell anyone. He had realised I was gay and wanted to sleep with me. I was petrified. I was 21 and a virgin. 'All I want to do is sleep with you,' Barry said. 'We don't even have to touch.' His proposition brought a mixture of desire and absolute terror. Trembling, I nodded and we went to bed. After a while we fell asleep. Several hours later I woke up to find I wasn't shaking any more; my desire overcame my fear. I had mixed feelings about this first sexual encounter. Everything I had learnt screamed that this was wrong – at the same time it felt instinctively right."
Or, as Jim McGreevey would say, "a boastful, passionate, whispering, masculine kind of love."
Paddick is the Liberal Democrat candidate for mayor in an election scheduled for May 1st. He'll face incumbent mayor Ken Livingstone of the Labour party and Boris Johnson of the Tories.
My boyfriend beat me up, says controversial gay ex-police chief Brian Paddick [this is london]