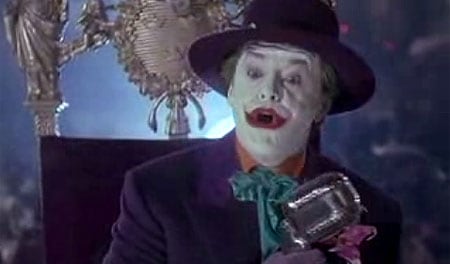 Last Friday evening, a video endorsement of Hillary Clinton by Jack Nicholson entitled Jack and Hill was posted to YouTube, and quickly went viral. As of this posting, the video has been viewed over 1,151,000 times.
What you probably don't know is that the video was conceived and created by two gay filmmakers, screenwriter/director John Krokidas and producer Bruce Cohen (American Beauty, Pushing Daisies, and the currently in production Harvey Milk biopic Milk).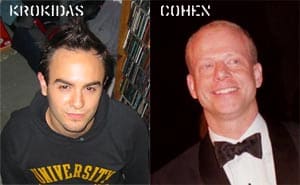 Krokidas agreed to answer some questions for me about how "Jack and Hill came about.
How was the video conceived?
Bruce has been a passionate Hillary supporter for years. And when Bruce heard that Jack Nicholson voiced his support for Hillary Clinton on the radio, an idea struck him – to take memorable film clips from arguably the most iconic film actor working today and intercut them with text reminiscent of Hillary Clinton's campaign's messages. The kicker: we would have to get Jack Nicholson to sign on and let us shoot him for one final shot at the end of the piece.
While a presidential candidate usually ends their political ad by saying, "I am (insert name here) and I approve this message," we would have Jack Nicholson ending our piece with his own version of the line. So, knowing that I was a Hillary supporter as well, Bruce called me at 4pm, telling me he had a great idea. And he did. I had the script done by midnight.
Was Jack Nicholson involved in its creation? What kind of input did he have?
Bruce asked his good friend Chad Griffin, who is Rob Reiner's political consultant to read the script and show it to Rob, and thankfully, they both loved it. So Bruce and I spent an afternoon cutting the piece together, then showed it to Rob, who had some great notes, then Rob got it to Jack and Jack agreed to participate. All we needed was the final shot in which Jack addresses the camera. So, I suddenly found myself driving up to Jack Nicholson's beautiful mountainside house with just a video camera and a crew of two friends, getting a chance to direct one of Hollywood's greatest legends (even if it were just for one line). As we left, he told us to "keep up the good work." It was inspiring and refreshing to see how committed and passionate Jack is to his political beliefs.
What has the overall response been like and some of the crazier comments you've received on YouTube?
The response has been overwhelming. We posted it on YouTube on Friday Night, and by Saturday, the piece was aired on CNN, Fox News, ABC Nightly News, MSNBC and shown on the websites for the New York Times and the Los Angeles Times. Bruce and I looked at our YouTube page at the end of the night to see that we had over 720,000 hits and were the #1 most watched video that day. It's unbelievable to me how fast news items spread due to the virtual nature of the medium now. And amazing that you can reach so many people that quickly.
I was initially worried that when we put out this piece that we would just be preaching to the converted – that only Hillary supporters would enjoy it. But some of the best compliments we have gotten have been from Obama supporters. Like Daily Kos writer "blueintheface" who admits that he "can be accused of being anti-Hillary Clinton." But that her people "finally (in his opinion) have a video that can bring people together….Well done." That was a shock.
I have seen various responses to the video on the web, some of which have been fairly negative. Perez Hilton called the video a little bit creepy. Andrew Sullivan posted a comment from a reader who remarked that it was "awesome" that the Clinton campaign was being endorsed by three characters who are psychopaths. How do you respond to those who might twist it into a negative thing?
Lighten up. While the piece does profess real reasons we believe Hillary to be the stronger Democratic candidate for president, it is also a satire of your typical politics-as-usual campaign endorsement ad. We have Jack Nicholson, the iconic bad-boy of Hollywood, standing up and voicing his support for a presidential candidate. How can you not make a spot with him that doesn't reflect all of his devilish charm and wit?
Bruce and I wanted to interject some levity, some charm, and some fun to what has been a long and often difficult campaign for all the candidates involved. I think the response that we got has shown that we were not the only ones who felt the same way. CNN just picked us as one of the top five political advertisements over this entire presidential campaign. My mother is very proud right now.
John Krokidas is a Hollywood screenwriter by day/indie filmmaker by night and has written scripts for Miramax and Universal Studios. Right now, he is securing financing for SLO-MO, his feature directorial debut – it's based on a short he did which premiered at Sundance, then sold to HBO.
Says Krokidas: "It's a comedy about trying to keep up with the speed of our ever-quickening world and failing miserably. Michael Stipe and his producing partner Sandy Stern are producing SLO-MO under their producing shingle Single Cell Pictures, (Being John Malkovich and Saved!). We have our cast and are approaching complete financing. Expect it at your local art-house in 2009."