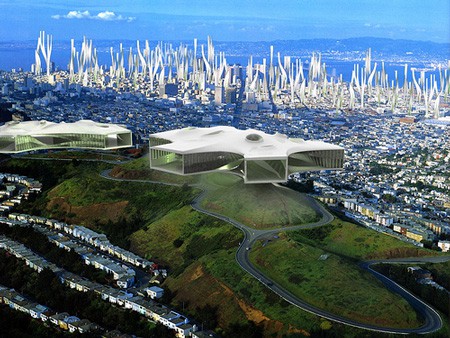 In this week's tech news, Jon Barrett looks at the San Francisco of the future, the iPhone SDK, winking your music on and off, making yourself a superstar in Times Square, and the Poseidon underwater hotel.

San Francisco firm IwamotoScott Architecture won the $10,000 grand prize for its entry in the History Channel's City of the Future contest. The winning entry envisions what San Francisco might look like in 2108. I don't anticipate being around long enough to wonder what these "Geothermal Mushrooms" on the top of Bernal Hill is all about. See all the images here.

You can soon expect even more out of your iPhone now that Apple has released software and raised $100 million to lure developers to create applications for the popular 'pod. The Associated Press reports that Apple will sell outside developers' applications through a new App Store. Developers will pay a $99 fee to register and will set the price for their applications. They'll get 70 percent of the revenue and Apple 30 percent. As part of the announcement, Apple demonstrated seven applications developed within a couple weeks by high-profile names in tech.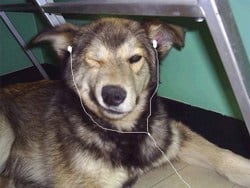 A new iPod controller developed in Japan allows you to control your music with a blink of an eye—literally. It uses a camera clipped to glasses or a pair of headphones to read how you're blinking. Reuters reports: "Wink strongly for one second with one eye to rewind, use the other to skip to the next song, or close both eyes to pause and play."
(Photo via Gizmodo)

Paypal users who access the site with a Safari browser are more vulnerable to security fraud than those who use Explore, Firefox, or Opera, Paypal said this week.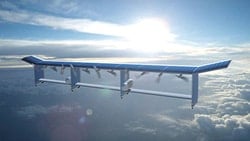 The Defense Department is about to award a contract to build an unmanned aircraft that can stay in the air for up to five years at a time. One of the biggest obstacles for the aircraft, which Gizmodo reports will likely draw from the NASA design pictured here, is how to power it for such a long period.

If California power company PG&E has its way, your phone might start smelling slightly funny after each charge. That's because the company began using cow manure to produce natural gas that it hopes will be a new way to power homes. "When most people see a pile of manure, they see a pile of manure, we saw it as an opportunity for farmers, for utilities, and California," a company spokesman told Reuters.


Now everybody can see their own mug on an electronic billboard above New York City's Times Square—even without winning America's Next Top Model. That's because artist Raul Vincent Enriquez has launched a public art project this week, called "I in the Sky," in which he lets anyone come into a photo booth and then transmits the resulting photographs to the top of the Conde Nast building at 4 Times Square. "You sit in the photo booth and hit the button and it takes about 30 photos of you and then we animate them," Enriquez told Reuters. Ready for your close up? The booth is located in the Chashama art gallery on West 44th Street, just off Times Square. The animations are also supposed to be posted here (although there weren't any there when I last checked). So this video will have to work until they get their act together.

Samsung Electronics this week became the first manufacturer to ship a 500 GB 2.5-inch drive to PC makers. That means you'll soon be able to buy a notebook with a whopping 1TB of storage. By the way, if you're in the market for a new laptop, check out Switched.com's 2008 Laptop Buying Guide.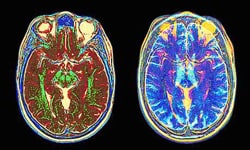 U.S. scientists have developed a computer mind-reading technique that lets them predict the images that people are looking at, raising the likelihood that they'll soon be able to visualize scenes from a person's dreams or memory. Amazing and scary at the same time.

TOWLETECH GUIDE TO THE TUBE
ROBOTIC SNAKE: As if real ones aren't creepy enough.
DAVEY DANCE BLOG: I'm a little obsessed with this guy and his videos of himself dancing around the world.
POSEIDON UNDERWATER HOTEL: A video tour of the world's first 40-feet underwater hotel, scheduled to open in Fiji next year.
FENTIX CUBE: Like Rubik's, but better.