Zimbabwe: Intelligence officers for the government of Robert Mugabe force opposition supporters to take down their posters and eat them. "Amnesty International cited a case on March 7, when three members of the Morgan Tsvangirai-led faction of the Movement for Democratic Change (MDC) were ordered by intelligence officers to take down election posters. According to Amnesty, the officials forced the opposition supporters to chew the posters and swallow them."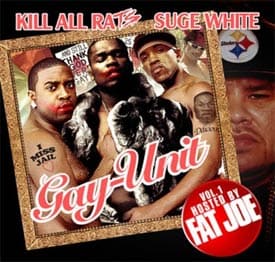 Fat Joe and Suge White mock fellow hip-hop artists 50 Cent and G-Unit with 'Gay-Unit' mix tape: "Featuring a Photoshoped image of 50, Yayo and Banks tightly embraced, all three rappers are portrayed with smeared lipstick on the face, as Yayo was tattooed with a "I Miss Jail" on his right shoulder and Banks sporting a portrait of Curtis on his left shoulder with 'Delicious' tagged under." (image via Rod 2.0)

American Idol: Is David Cook an 'original', or just a really good cover artist?

University of Pittsburgh study: LGB youth report higher rates of drug and alcohol use. "The odds of substance use for lesbian, gay and bisexual (LGB) youth are on average 190 percent higher than for heterosexual youth…What's more, for some sub-populations of LGB youth, the odds were substantially higher, including 340 percent for bisexual youth and 400 percent for lesbians, researchers found. 'Homophobia, discrimination and victimization are largely what are responsible for these substance use disparities in young gay people,' said Michael P. Marshal, Ph.D., assistant professor of psychiatry at the Western Psychiatric Institute and Clinic of UPMC, who led the study. 'History shows that when marginalized groups are oppressed and do not have equal opportunities and equal rights, they suffer. Our results show that gay youth are clearly no exception.'"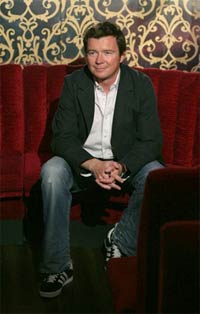 The second coming of Rick Astley: the "Never Gonna Give you Up" singer talks about the RickRoll.

Apparently they are remaking the 70's kids TV show Land of the Lost at the La Brea Tar Pits, but I don't know how you can ever replicate the wonderfully bad fake dinos and the Sleestaks…

Ellen Degeneres top television host in new poll.

'Domestic partnership' to become 'mutual commitment' in Salt Lake City? "Some legislators argued that the term 'domestic partnership,' at least in spirit, violated Utah's constitutional Amendment No. 3, which bans same-sex marriage and substantially similar civil unions. Salt Lake City Mayor Ralph Becker said Tuesday he will recommend to the City Council that the name be changed to the mutual commitment registry. The City Council likely will consider the recommendation at its April 1 meeting. If approved, the registry could be up and running as soon as April 7."

Ronald Haines, Episcopal Bishop who ordained lesbian in 1991, dies in Pennsylvania.

Karl Lagerfeld the subject of new documentary: "The film is Lagerfeld Gone Wild, with delights such as Lagerfeld discussing how gay people suck nowadays because they no longer outrage 'bourgeois social norms' and why prostitution should be legal. He's full of opinions."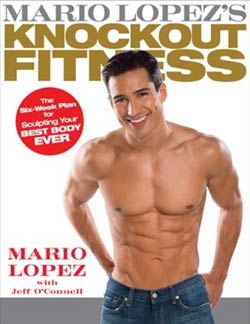 Mario Lopez hawks abtastic new fitness book.

Vienna LGBT group announces poster competition to raise awareness about homophobia in football: "With the European championships to be held in Austria and Switzerland this summer, Qwien said it wanted to draw attention to homophobia in football. 'By launching a Europe-wide poster competition, we will make an otherwise taboo topic public' during the championships, it said. Posters had to be submitted by the end of May. The best 50 would be selected and then a jury – including Icelandic film director Robert Douglas, Life Ball organiser Gery Keszler, the president of Hamburg's FC St. Pauli football club Corny Littmann, pop singer Jimmy Somerville and Tanja Walther of the the European Gay and Lesbian Sports Federation – would pick the best three. The winner would be announced on June 4. The 50 best posters would be displayed "at a public venue" during the championship itself, which runs from June 7-29." (official site)

More gay looks for Jay Leno.

L.A.'s first openly gay police officer seeks new trial in discrimination suit: "Former Sgt. Mitchell Grobeson wants a rehearing of a discrimination suit that sought up to $4.4 million in damages. A jury ruled for the city last year. A Superior Court judge on Tuesday took under submission Grobeson's motions for a new trial and reinstatement to the LAPD. Grobeson did two stints with the LAPD in the 1980s and 1990s before retiring on a psychological disability. The LAPD settled a previous suit by Grobeson in 1993 by promising to improve its hiring and training of gay officers."

Remember Aquaman? Alan Ritchson a superhero again.